The 4th of July has always been a fun filled day for trucking where we get an opportunity to kick back, dine in on some much needed barbecue and watch fireworks light up the night sky. In the midst of various patriotic talks with added fun and frolic it's quite easy to forget what the day is truly about: FREEDOM.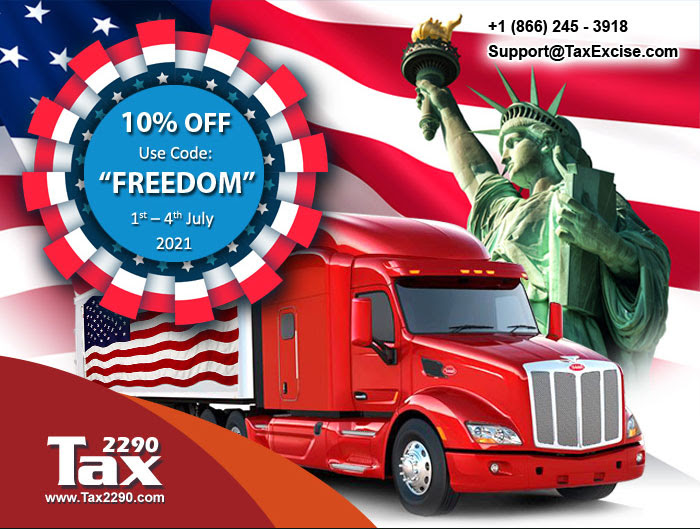 With the 4th of July just a few days away and to have our users deliver the best out of it we're giving away a 10% discount on all our E-file services. Treat yourself to a discount of up to $40 by using Promo Code "FREEDOM" valid from July 1st to July 4th only.
Since the tax period has just begun for July 2021 – June 2022 the IRS would be expecting to process a huge volume of returns and we are more than happy to inform you that all tax returns are being processed within a few minutes. So why wait! Log onto www.TaxExcise.com / www.Tax2290.com to have your tax returns completed with ease.
Being the only IRS Authorised E-File Service Provider that's over a Decade Old it is our essential duty that we stand up to your expectations and provide you with continuous support, guidance and undisrupted service. What sets us apart as a business is our vast knowledge gained over the years and unmatched customer service.
For any tax related questions feel free to reach our fully operational help desk. Our three way line of communication allows you to speak to us by phone @ 866-245-3918 or write to us at support@taxexcise.com, to have your questions answered instantly do also try out the LIVE CHAT option available on the Website.
Happy Independence Day, Stay Safe and Happy Trucking!