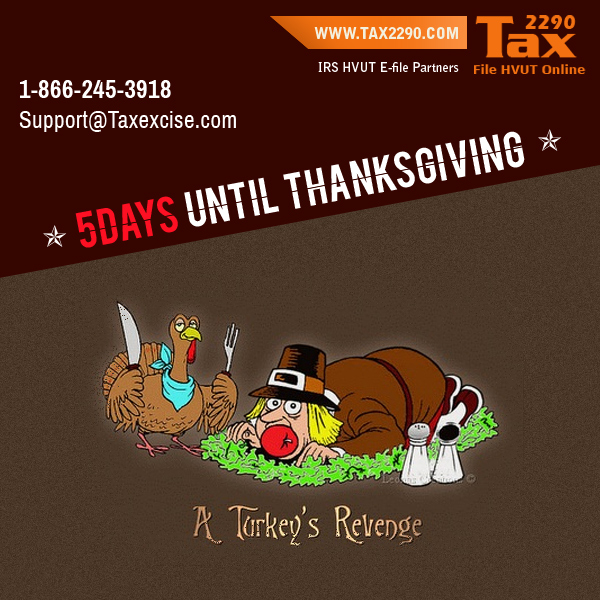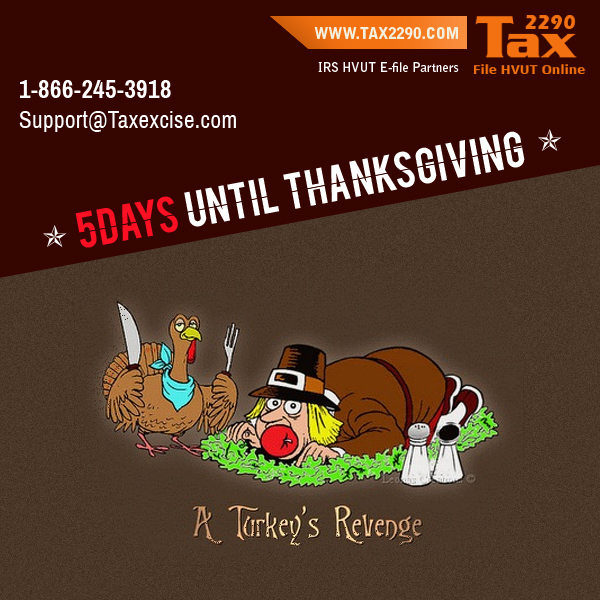 Being a Trucker means being busy and with Thanksgiving around the corner our truck drivers will be the busiest people on the planet. For truckers, this season is the craziest, busy transporting food for stores and unable to go home.
Like a great many things, Thanksgiving wouldn't be possible without trucking, So this Thanksgiving, while we recite what we're thankful for, let's not forget to thank our truckers who truly made it all possible. we at www.Tax2290.com who has been serving the trucking industry for over a decade would like to thank all drivers on the road this busy season and we are always willing to help and assist you with your Form 2290 needs.
With the season of thanksgiving upon us we would like to remind you to e-file form 2290 for vehicles first used in October before the December 3rd Deadline. And it is also advisable to have these vehicles reported before the long holidays so you could beat the holiday rush and also avoid any last-minute hiccups.
If you are already a customer, just click on the following link to log in to your account and get started. But if it's your first time, you have made the right choice. E-filing is the easiest, fastest, very secured, accurate and better by far, just click on the following link to join thousands of businesses that are currently enjoying our e-filing services and we assure you of 110 percent satisfaction and with our tax expert team on the standby to assist you during the filing process, you have got nothing to worry about.
Feel free to reach our Tax Experts @ 1-866-245-3918 or write to them @ support@taxexcise.com or ping using the Live Chat Option on the website.
Got feedback for us? Let us know here: https://t.co/GM7WrZOOQJ
Happy Trucking & Happy Thanksgiving!