The IRS Truck Tax returns reported on Form 2290 and Schedule-1 is up for renewal, has to be reported by August 31st. The new tax year for heavy vehicle use tax is around the corner and starts from July 1st, 2016 to June 30th 2017 and it is an Annual Tax. The Truckers and Truck Operators who own a heavy ve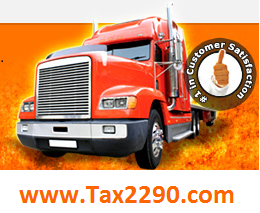 hicle that weight 55,000 lbs or more has to report this 2290 truck taxes. This is the highway vehicle use tax paid to the IRS, by listing the vehicles VIN#.
If you want to rene
w/register your vehicle with the state authorities then you need to present Form 2290, Schedule-1 proof with the VIN# listed on it. This Schedule-1 proof is also required to renew your vehicle tags, insurance and license plates.
Form 2290 and Electronic Filing.