The IRS Truck Tax returns reported on Form 2290 and Schedule-1 is up for renewal, has to be reported by August 31st. The new tax year for heavy vehicle use tax is around the corner and starts from July 1st, 2016 to June 30th 2017 and it is an Annual Tax. The Truckers and Truck Operators who own a heavy ve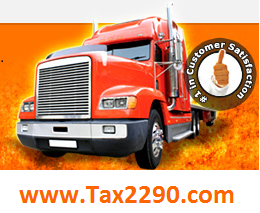 hicle that weight 55,000 lbs or more has to report this 2290 truck taxes. This is the highway vehicle use tax paid to the IRS, by listing the vehicles VIN#.
If you want to rene
w/register your vehicle with the state authorities then you need to present Form 2290, Schedule-1 proof with the VIN# listed on it. This Schedule-1 proof is also required to renew your vehicle tags, insurance and license plates.
Form 2290 and Electronic Filing.
You must file Form 2290 and Schedule 1 if a taxable highway motor vehicle is operated on the public highways. This Form 2290 can be prepared and reported electronically with the IRS through an authorized provider like Tax2290.com, however electronic filing is required for returns reporting more than 25 vehicles. IRS encourages every trucker reporting 2290 to choose efile as it is convenient and easy.
IRS will not be send you the printed Form 2290, you need to download it from their website or else choose electronic filing to report it online. When you choose to manually report this 2290s you need to wait from 3 to 4 weeks to collect your stamped proof by mail. If not you need to walk-in to a local IRS office downtown, complete this 2290 form, stand in line and pay your taxes.
Instead you can choose electronic filing, where you just need to visit http://TaxExcise.com an IRS authorized e-file service provider for all Federal Excise Tax Forms. Create your own account, fill in your business details, vehicle VIN#, choose a payment mode to make your tax payments and file it online. The IRS will process your return immediately and issues you back the stamped Schedule-1 proof in minutes.
You no need to wait for the mail or stand in line to get this done, you could do it conveniently from your home/office computers, tablet or smart phone devices or iPhone, iPad and Android devices.
Schedule-1 Proof and IRS E-file Watermark.
When you e-file IRS could process your returns faster than any other means and issue the stamped Schedule -1 "proof of payment" immediately. The Schedule -1 proof will have the IRS e-file watermark and the date it received/accepted/processed your return on it. This Schedule1 with IRS e-file watermark is the acknowledgement that you're done with your 2290s.
Tax2290.com automatically email you the stamped Schedule 1 once IRS accepts your 2290. We can also send you updates via text and fax–copies as you subscribe.
This watermarked schedule -1 proof is accepted across all the authorities and DMV/DOT offices as a valid proof.
Finally, Why E-file 2290 returns?
The IRS Form 2290 and Schedule -1 is a much needed paper that you need to keep it with you when you drive your vehicle across the states, registering your vehicle, renewing your tags, license plates, insurance  and also while leasing your vehicle. If you choose e-file this IRS stamped/watermarked digital Schedule-1 will be available in minutes which you can share it with your parties as proof. Apart from this you have 1000s of reasons to choose e-file and they are;
You can self-prepare your tax returns and does not require tax knowledge. Just answer simple interview questions to complete your return.
You could save all the data and download Schedule-1 anytime from anywhere from this website. Record keeping is simple and easy.
When you e-file, tax2290.com eliminates all possible human errors and helps you file 2290s accurately. No need to do the math calculations too, the website will automat it.
The Tax Payments can also be initiated with the IRS through Direct Debit or EFW, you may also choose to pay using EFTPS or through your pay check as you wise.
Keep tracking of your vehicle identification numbers and other common information at one place.
E-file through tax2290.com can help you do it in simple steps, quick screens securely. Our tax support experts can help you screen-by-screen to complete your return right.
Our value added features like Bulk Upload, Import from previous year returns helps you to complete it in one go.
The Full Service option to take care of your filings from our end, where you share the details over phone, email or fax.
E-file is simple and convenient as you can download our free Android and iOS apps to complete it on the move.
We're there to help you through your filing process. Connect with us in our help desk number, email or chat service.
Save Time and Money
E-file can guarantee you Schedule-1 copy in minutes, in case of correction you can do it online and in less time. You could save a lot of time, no more driving downtown to any IRS office burning gas, standing in line and spending your time. E-file with Tax2290.com is nominal and affordable, reasonable and nominal. No need to work with a paid prepare and end up paying him more for these simple tax preparations.
Choose e-file where we take care of your 2290 filings, you put your efforts in your business. Hope this blog has all the points about electronic filing and its merits. Call and connect with our support desk at (866) 245 – 3918 any time between 9:00 AM to 6:00 PM EST, Monday through Friday. You can also write to us at support@taxexcise.com
Happy and Safe Trucking!