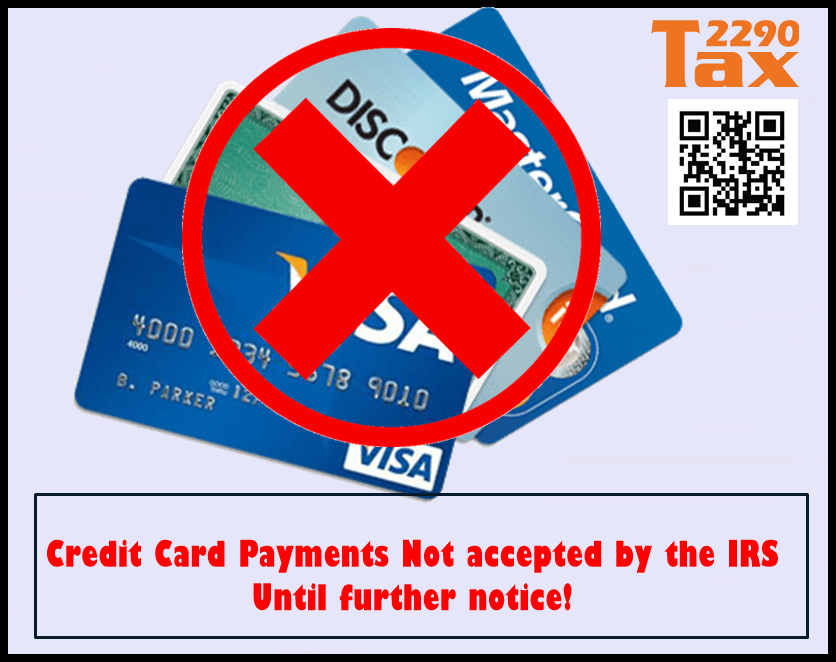 A shout out to all our truckers and fraternity of the Trucking Industry. TaxExcise.com the first authorized service provider by the IRS and the only service provider that has seen over a decade of tax returns pass by would like to keep you reminded that "Until further notice, paying the Heavy Highway Vehicle Use Tax by credit card or debit card is no longer available".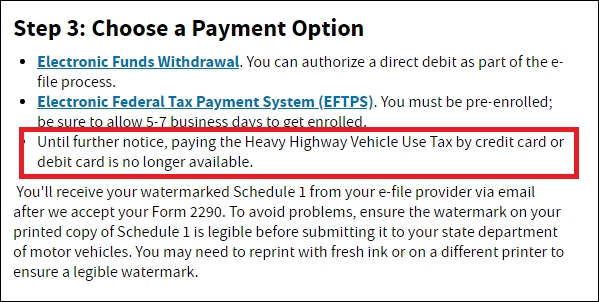 The Credit/Debit card payment option was introduced by the IRS effective from July 2018. This made tax payments expeditious as this option was never made available since E-filing was first introduced. Your tax payment to the IRS completely depends on which payment option you choose and most users found that making a credit/debit card payment was much easier compared to the other available payment options. As per the recent update the IRS has officially stated that they temporarily will not be accepting payments using a Credit or a Debit Card, do visit https://www.irs.gov/e-file-providers/e-file-form-2290 for any further posts or updates about this latest news.
That being said the below payment options are still active and available for use.
EFW (Electronic Funds Withdrawal) or Direct Debit as we like to call it is the most preferred payment option, this allows the IRS to directly debit your checking account for the tax payment.
EFTPS (Electronic Federal Tax Payment System) allows enrolled users to log onto eftps.gov and schedule tax payments securely to the IRS.
Pay Check or Money Order is the most common and an old school way to pay the IRS by mailing in a check, this option is still practiced by most veterans of the trucking industry.
Irrespective of which payment option you choose you can always depend on www.TaxExcise.com to have your tax returns filed and submitted in a timely manner. Do report vehicles (either Taxable or Exempt) that were first used in January before the March 2nd deadline. Form 2290 for any new vehicles with a Gross Weight of above 55,000 pounds that was first used in January is due by the last day of the following month, and if the deadline falls on a weekend the next business day subsequently will be the last day.
We are just a click away, you can reach us by Phone @ 866-245-3918 or Email us @ support@taxexcise.com do also check out the Live Chat option available on the website. This Three Way Line of Communication allows us to assist and help you complete your tax returns in an easy and effective manner.