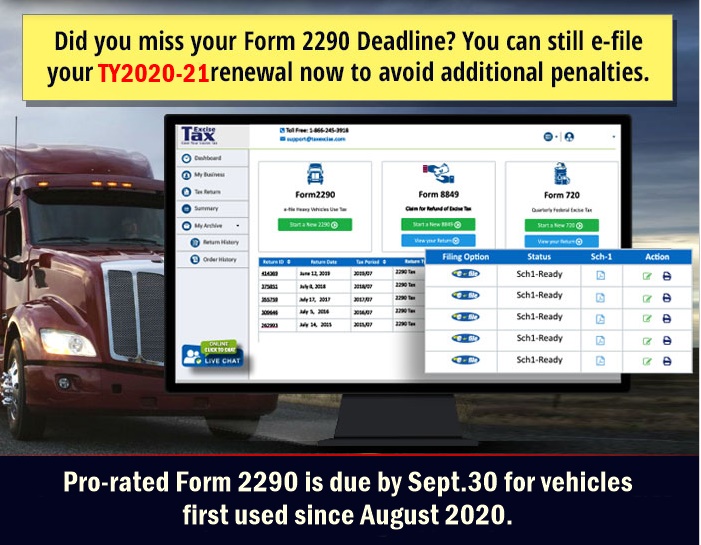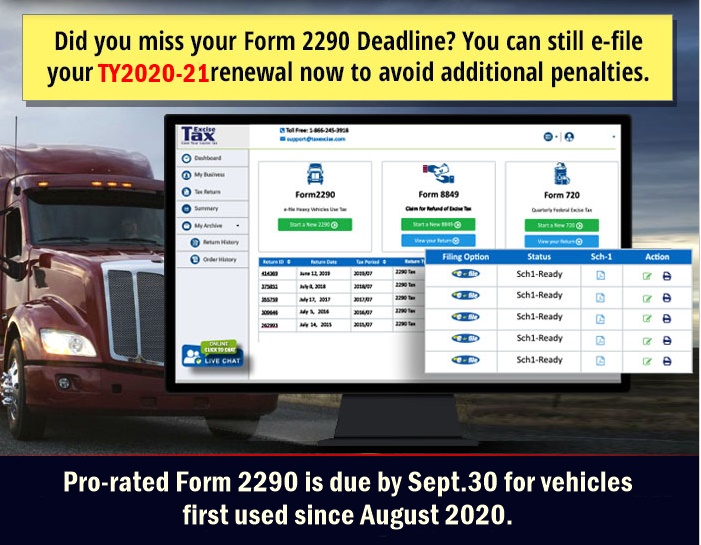 Electronically filing returns has always been a savior to many, and with all the ongoing delays and unprecedented circumstances receiving much needed Stamped copies is the need of the hour. As the tax season has come to an end and with the COVID situation weakening we at TaxExcise.com would like to keep you informed about a few recent updates. The Internal Revenue Service has sent a notice to states regarding a delay in processing Form 2290 payments. The notice stated that due to the ongoing situation taxpayers who filed a paper Form 2290 to report and pay the highway use tax for the current tax year period July 1, 2020, through June 30, 2021, can expect a significant delay in receiving their IRS-stamped Form 2290 Schedule 1. This means owner-operators and businesses alike who paid by check won't be getting their Schedule 1 proof anytime soon.
Though there is a delay, filers and preparers alike who have mailed in payments and filed through paper can still breathe a sigh of relief. Any documentation such as a photocopy of the check or any proof of already payments can be used by truckers who are needing to renew the registration of a vehicle during July, August and September. For further detailed information filers who filed through paper can also visit https://www.irs.gov/newsroom/irs-operations-during-covid-19-mission-critical-functions-continue
That being said we would also not like you to miss out on the upcoming September 30 deadline, E-file form 2290 now for vehicles first used or put into service in the month of August. Though there is a delay in receiving paper-filed returns the IRS E-file service are active and returns filed online have a faster turnaround time with Stamped copies being made available in a few minutes. Being the only IRS Authorised E-File Service Provider that's over a Decade-Old it is important that we stand up to your expectations and provide you with continuous support, guidance, and undisrupted service. What sets us apart as a company is our vast knowledge gained over the years and unmatched customer service.
For any tax-related questions feel free to reach our fully operational help desk. We're available on all Business days between 9:00 AM to 6:00 PM Central Time. Our three-way line of communication allows you to speak to us by phone @ 866-245-3918 or write to us at support@taxexcise.com, to have your questions answered instantly do also try out the LIVE CHAT option available on the Website.
Happy Trucking!