Hello Truckers! the form 2290 truck tax e-filing is actively happening on Tax2290.com for the ongoing tax season, 2022-2023. Many truckers and trucking taxpayers have already e-filed their form 2290 online and successfully received their IRS official schedule 1 receipt. Also, the last date to e-file form 2290 to the IRS falls on August 31, 2022, which is approaching soon. So, if you haven't reported your form 2290 HVUT yet, it is high time to e-file it and get your schedule 1 copy before the deadline. 
IRS made e-filing form 2290 online mandatory for truckers filing reports for 25 vehicles and more. Also, they encourage all the other truckers and trucking taxpayers to e-file their form 2290 through an IRS-approved electronic filing service provider. Because e-filing is an effective way to report the truck taxes and an efficient method for the IRS to process them and deliver the schedule 1 copy to the taxpayers.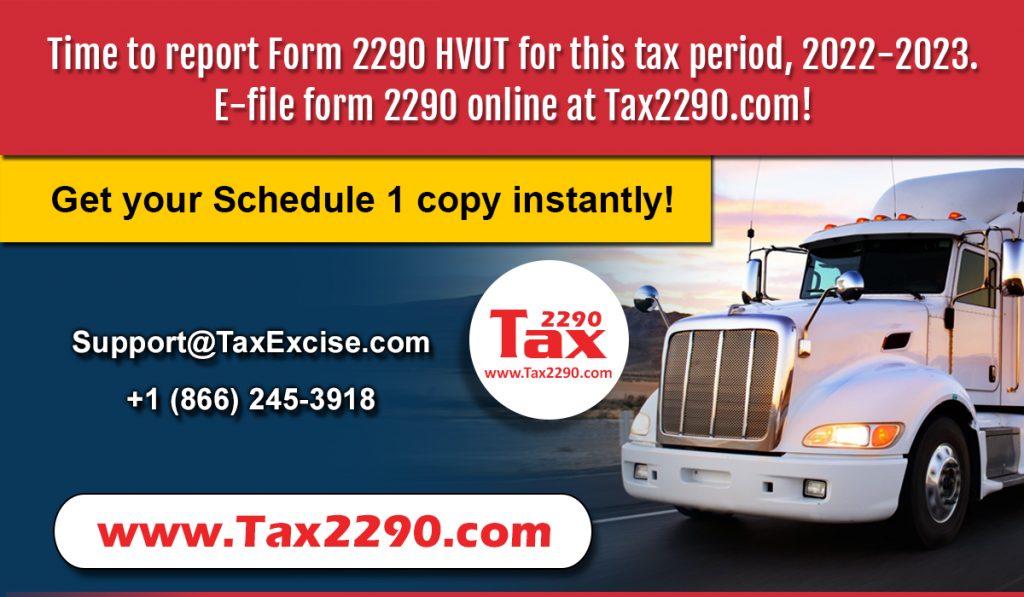 Tax2290.com is an IRS-approved modernized form 2290 HVUT e-filing service provider proudly serving hundreds and thousands of truckers in the United States. You can e-file form 2290 online at Tax2290.com and get the schedule 1 copy directly to your email. This schedule 1 copy is IRS digitally stamped/watermarked, and it contains the IRS official e-file logo along with the date of your return e-filed and processed. Therefore, the IRS digitally watermarked schedule 1 copy is accepted by all the official and legal divisions such as the DMV, DOT, and other federal authorities. 
Let us know more about the importance of Schedule 1 copy and the ways to get it from the IRS,
Significance of a Schedule 1 copy
A valid Schedule 1 copy of the particular tax period is mandatory for all trucks or heavy vehicles to operate on public highways. 
Schedule 1 copy contains the Vehicle Identification Number (VIN) of your truck, which is used to identify and validate your vehicle with the concerned authorities and legal formalities. 
It serves as the proof of payment and reporting of the HVUT form 2290 with the IRS for the ongoing tax period. All federal authorities like DMV, DOT accept it for registration, license, vehicle tags renewal, insurance, and more. 
You can use your schedule 1 copy when you lease your trucks. 
Means to get the Schedule 1 Copy from the IRS
You can paper file form 2290 directly to the IRS or mail your completed form 2290 with the tax reports to the IRS address. The IRS will process your tax reports and sends your official schedule 1 copy to your registered address in a few weeks. 
You can easily e-file form 2290 online at Tax2290.com and get the schedule 1 copy directly to your email in just a few minutes. You can print it out and use it for all the necessary purposes. Or you can subscribe for a fax copy of your Schedule 1 receipt from Tax2290.com when you e-file form 2290. We will send it to you once it is available. 
Methods to retrieve your Schedule 1 copy if you misplaced it
If you have e-filed form 2290 at Tax2290.com, you can download it anytime from your profile's dashboard for free. We offer unlimited record keeping so that you can access it anytime.
You can contact our Tax2290.com customer support desk. We will help you to retrieve your schedule 1 copy.
You can contact the IRS and request your schedule 1 copy.
Form 2290 e-filing starts at $29.99 at Tax2290.com. So, E-file form 2290 at Tax2290.com and enjoy the unlimited benefits of e-filing online. For any queries, reach us at 866-245-3918 (toll-free) between 8:00 AM to 6:00 PM Central Time, or you can email us with any questions or concerns at support@taxexcise.com.