Hello, truckers! We hope all of you have successfully filed your form 2290 truck taxes to the IRS and paid your tax dues for this tax period, TY 2022-2023, to the IRS. We understand that form 2290 HVUT returns filing is a hectic process, and you might not have everything accurate while filing your tax returns to the IRS. For example, what if you had typed an incorrect VIN of your vehicle and got the schedule 1 copy with the exact VIN? You might run into troubles in registration, insurance, license renewals and with the authorities if you had an incorrect VIN in your schedule 1 copy. Therefore, you must have the correct VIN of your heavy vehicle in your IRS stamped schedule 1 copy.
Tax2290.com offers this vital VIN correction service for the truckers and taxpayers who got their schedule 1 copy with incorrect VIN. You may apply for VIN correction at Tax2290.com and instantly get the revised schedule 1 copy from the IRS to your registered e-mail address.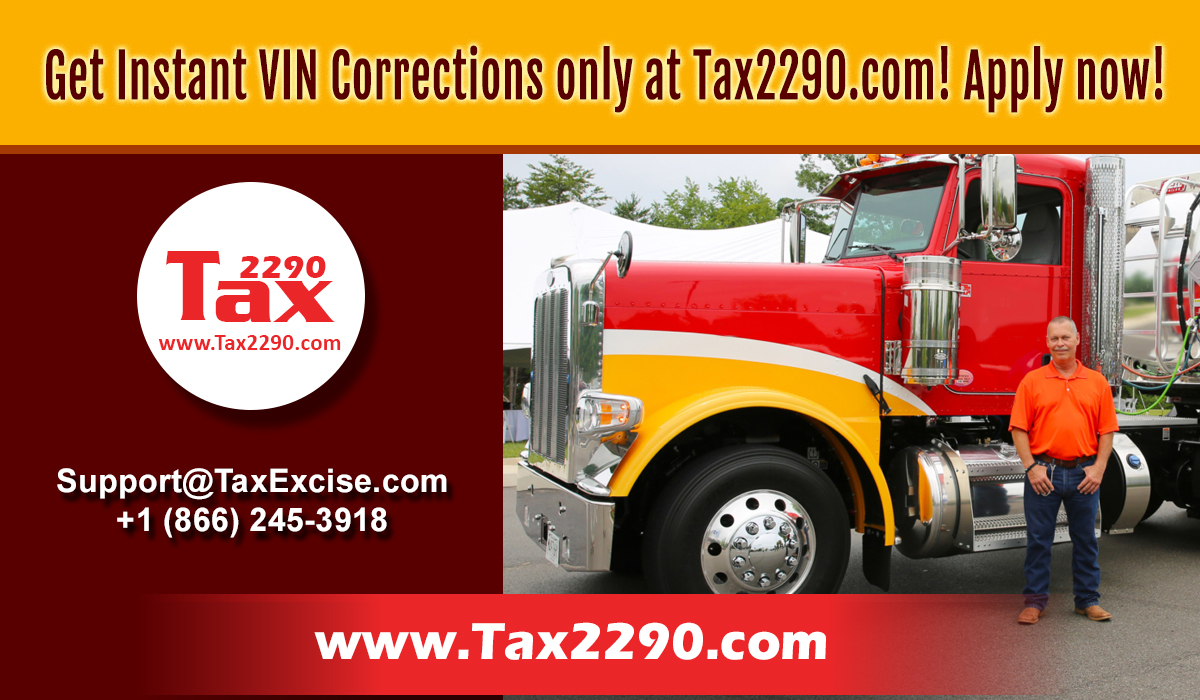 Importance of VIN
Vehicle Identification Number, or VIN, is a combination of alpha-numerical digits consisting of 17 characters given to every vehicle for identification purposes. VIN is unique for every vehicle and serves as the ID number of every vehicle in the United States. VIN is important in the form 2290 HVUT process because the IRS identifies each and every vehicle only through its VIN, nothing else. So, the VIN of your heavy vehicle plays a critical role in your form 2290 truck tax returns with the IRS. You need to ensure that you have entered the VIN of your vehicle accurately while e-filing form 2290 at Tax2290.com. If you had your VIN wrong and got the schedule 1 copy with the incorrect VIN, you can easily change it by applying for VIN correction at Tax2290.com.
Report for VIN corrections at Tax2290.com!
IRS has been offering VIN correction services for all form 2290 truck taxpayers. You can also e-file your VIN correction reports to the IRS through an IRS-approved service provider. Tax2290.com is the best IRS-approved online form 2290 e-filing service provider with separate facilities that easily help you e-file form 2290 VIN correction.
VIN correction costs just $49.99 at Tax2290.com. For more queries about VIN correction e-filing, please get in touch with our customer support desk at 1-866-245-3918 (toll-free) or write to us at support@taxexcise.com; we will reply to you promptly.