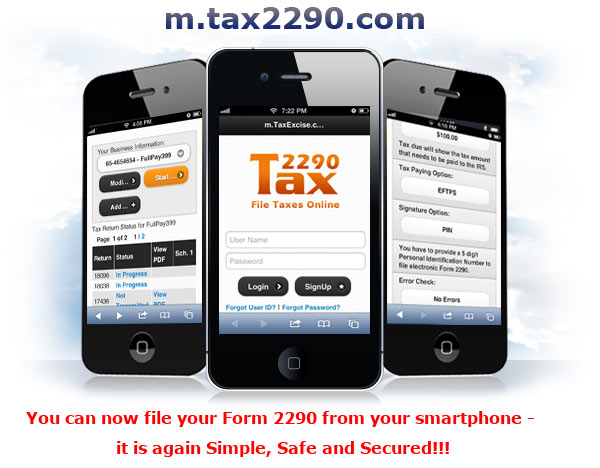 As we could not wait anymore to facilitate our customer's convenience with more, we have just launched the first mobile version of our ever-safe form 2290 e-file application on m.tax2290.com
For you truck owner operators who are mostly on roads, handy amenities are always a boon. Just like the sight of a good quality truck stop when you think of resting or an unclogged roadway when you have to make an important time-tight delivery. The mobile version of tax2290 application which has been brought to life as a diagnosis of the importance of your time is sure to refresh your mind every time you file your tax form. You can easily file your form 2290 from anywhere, anytime on simplified screens and get your stamped schedule 1 copy at a great response speed.
Be generous to spread goodness. Recommend m.taxexcise.com!
Whether it is on mobile or on web, if it is tax 2290, Tax2290 is at your support on 866-245-3918 and support@taxexcise.com no matter when.
Warning! Be cautious of 2290 mobility unfortunate friends who might become resentful after seeing you enjoy such a comfortable tax filing life right on your mobile phone!