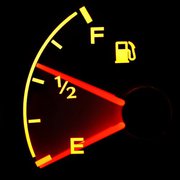 President Obama announced the first-ever fuel-economy rules for semis, buses and other heavy-duty vehicles — down to HD pickups.
The rules will start with model year 2014 and escalate through 2018, the Associated Press reported.
The rules break down the vehicles into three categories:
Diesel semis will have to cut fuel use 23%.
HD pickups and vans will have to do 10% better if they are gasoline-powered and 15% if they run on diesel.
Everything else — from buses to garbage trucks to cement mixers — will have to cut use 9%.
The White House released no miles-per-gallon equivalents for the rules, saying that it would be confusing because the categories include so many different types of vehicles and varying payloads, the AP reported.
Obama said in a statement that trucking companies and makers of medium and heavy-duty trucks have signed on to the standards.
It's surprising with the economic meltdown in progress that the president found time today for this — and he did alter his plans. He had been scheduled to make the announcement at a trucking company in Virginia, a key state for the 2012 elections,the AP reported, but switched to a private session with industry execs at the White House.
The White House briefing projected savings from the rules of 530 million barrels of oil and $50 billion in fuel costs over the expected lives of the vehicles. The administration stressed that it believes the upfront costs of the rules — from hundreds to thousands of dollars more to buy the vehicles — will be recouped eventually over their lifetime in lower fuel costs.
The big vehicle rules follow Obama's announcement last month of new rules for cars and light trucks calling for a fuel-economy average of 54.5 mpg by 2025. Current rules call for a rise from 27 mpg now to 35.5 mpg by model year 2016.
www.Tax2290.com a tax suite of products from TaxExcise.com provides a streamlined user friendly online website for filing Heavy Vehicle Use Tax, IRS Form 2290. It has many unique features for your convenience and offers seasonal pricing for your benefits. It also provides a special interface for Tax Professionals.
www.Tax2290.com / www.TaxExcise.com is rated as #1 by Heavy Truck Tax filers.
For Instant Help Call our Support Desk 1-866-245-3918 or email to us support@taxexcise.com we are always happy to help you in your excise tax reporting.