Attention Truckers! Only a few days left to pre-file Form 2290 online on Tax2290.com. As the new tax season is approaching soon, Tax2290.com offers Form 2290 online pre-filing to help truckers to stay ahead of the deadline and report their taxes weeks before the opening day. Truckers and trucking taxpayers are actively pre-filing Form 2290 HVUT for the upcoming season to stay ahead of the seasonal surge. So, if you didn't pre-file your truck taxes, pre-file Form 2290 online for TY 2023-24 on Tax2290.com today!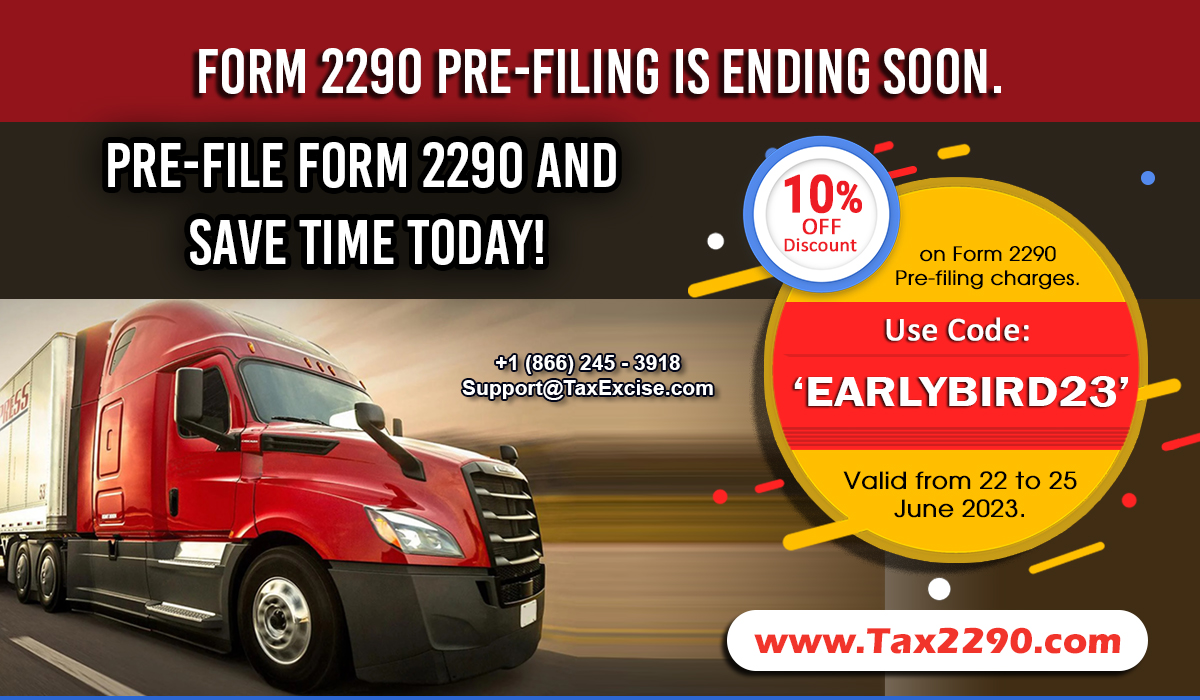 Tax2290.com is open for Form 2290 pre-file for TY, 2023 – 2024.
Form 2290 pre-filing is highly advisable for truckers and trucking taxpayers renewing their Form 2290 HVUT this upcoming tax season. Because almost all truckers will be reporting Form 2290 returns during the beginning of the season, and IRS will get flooded with Form 2290 returns. Instead, Form 2290 pre-file online helps you to save a lot of time; it will give you ample time to prepare your taxes and report them accurately. Remember that the IRS will accept and process Form 2290 tax reports for the new tax season around the first week of July. Therefore, we will securely hold your pre-filed 2290 tax returns in our system and transmit them to the IRS once they open for the season. Your tax returns will be among the first to reach the IRS for processing. IRS will process your tax returns before the surge. You will get the IRS digitally watermarked Schedule 1 copy at the earliest.
Use the coupon code to save big!
To benefit our users and the trucking community, Tax2290.com is offering a special coupon code 'EARLYBIRD23' for our 2290 pre-filers. Use this coupon code for a flat 10% discount on form 2290 pre-filing charges at Tax2290.com. This offer is valid from 22-25 June 2023. As the form 2290 pre-filing will end in just a few days, we want all the truckers to use this opportunity pre-file form 2290 online and save big!