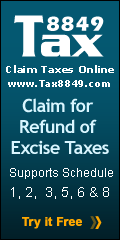 The IRS is offering electronic filing of Form 8849 will satisfy the Congressional mandate to provide filers an electronic option for filing Form 8849, Schedule 3. Schedules 1, 2, 5, 6 and 8, are also available for efiling through www.TaxExcise.com.
How will Form 8849 e-file improve results? Refunds for an electronically filed Form 8849, with Schedule 2, 3 or 8,  will be processed within 20 days of acceptance by the IRS. All other Form 8849 schedules are processed within 45 days of acceptance. Much faster than Paper filing method
Will refunds be sent electronically? Currently, Excise refunds are manually processed and distributed in the form of paper checks.  IRS is working to make an electronic refund option available.
Why did 72 million people e-file last year?
Accuracy – e-file greatly reduces the chance of getting a notice from the IRS.
Security – Your privacy and security are guaranteed.
Fast Refunds – You get your refund in half the time, even faster with Direct Deposit.
Proof of Acceptance – You receive an electronic acknowledgement within 48 hours that the IRS has accepted your return for processing.
Did you know….
More than half of all taxpayers will file electronically this year.
You can create your own five-digit Personal Identification Number (PIN) to sign your return electronically.
Thirty-seven states and the District of Columbia allow taxpayers to file their federal and state returns electronically at the same time.
e-file. It's as easy as 1-2-3!
Step 1 – Get all your tax information together
You'll save time and won't have to stop in the middle of preparing your return to find a missing document. Here is some of
Step 2 – Choose the e-file method that works for you:
Tax Professional, Efile Provider etc.
Step 3 – e-file
Tax Professional – If using a Tax Professional, be sure to take all your information with you, and don't forget to ask for e-file. Go to irs.gov/efile to find an Authorized IRS e-file Provider near you.
Personal Computer – Just answer the simple questions in your computer by visiting www.Taxexcise.com and we will do the rest for you. There may be a modest fee for e-file. For faster refunds, or to pay when YOU want to, have your bank account number handy.
NOW RELAX. You're done. And tell a family member or friend that e-file is the smart way to file their federal and state income tax returns.
Important NOTE: Try for Free!!! and pay only when you are satisfied and want to continue filing. No upfront fee like other efile providers.
E-file for Faster Refunds.
Get your refund in half the time.
E-file for Peace of Mind.
You get proof of acceptance within minutes when filed through www.TaxExcise.com, so you are SURE the IRS received your tax return. Electronic filing is the safest, most secure and private way to send your tax return to the IRS. We have a premier feature, TEXT Alert. Get instant TEXT Alert about the status of your return to your mobile. It is very simple, NO more guessing game!!!
E-file: 72 million satisfied customers and still growing!!! call us at 1-866-245-3918 for any further support. Simply email to us at support@taxexcise.com