Hello, truckers and trucking taxpayers! Tax2290.com is an IRS–approved modernized e-filing service provider for the Highway Heavy Vehicle Use Tax (HVUT) Form 2290. Truckers must report and pay their taxes using Form 2290 to the IRS for operating their heavy vehicles or trucks on public highways in the United States. The IRS made Form 2290 e-filing compulsory for truckers reporting Form 2290 reports 25 or more at a time. They encourage all types of truckers and trucking taxpayers to e-file Form 2290 online, even to file Form 2290 for a single truck. Form 2290 e-file has proven to be an effective method to file Form 2290 tax reports to the IRS because of its comfort, convenience and speed. Tax2290.com provides the best Form 2290 e-filing services along with instant Schedule 1 copy once the IRS process your tax returns. You can get the IRS Schedule 1 copy directly to the email as proof of Form 2290 tax payment.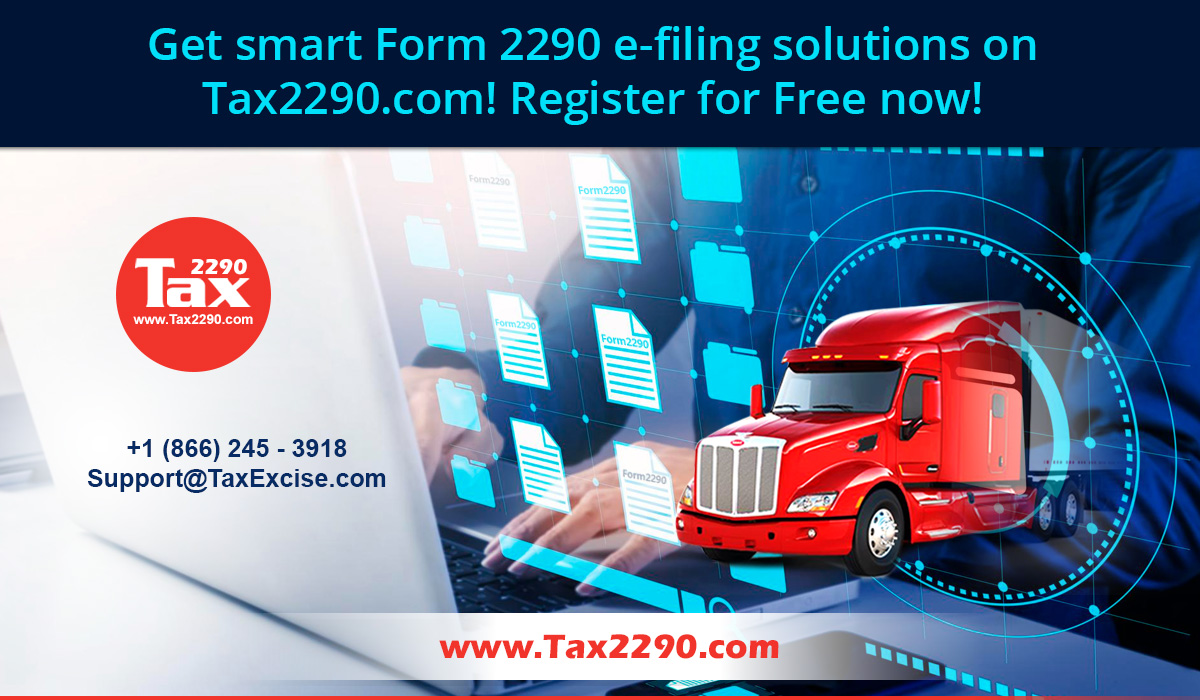 Here is every basic thing you need to know about Form 2290 e-file on Tax2290.com!
What is Form 2290 E-file?
Apart from paper filing your tax returns, you can prepare, report and pay Form 2290 HVUT returns directly to the IRS through an authorized online platform. It is an electronic and paperless process where you can file your taxes online and get the Schedule 1 copy to your email on the go.
Where to E-file Form 2290 online?
You must find a suitable IRS–approved Form 2290 e-filing service provider to e-file your HVUT form 2290 for the season. Tax2290.com is one of the best IRS-authorized modernized e-filing providers for Form 2290 HVUT returns. You will get smooth and convenient Form 2290 e-filing solutions with unique features and experience.
How can I get the stamped Schedule 1 copy through the Form 2290 e-filing method?
You don't have to wait for days or weeks to get the stamped Schedule 1 copy through the mail. Once you e-file Form 2290 online on Tax2290.com, you will instantly get the IRS digitally watermarked Schedule 1 copy to your registered email address. You can download, print and use it as proof with concerned authorities and departments.
How can I pay my tax dues if I e-file Form 2290 online?
You can pay your taxes securely by IRS–approved online tax payment gateways like EFW, EFTPS, credit or debit card. The easiest methods to pay your taxes online are Electronic Funds Withdrawal (EFW) and credit/ debit card. You can also e-file Form 2290 online and send a money order or check address to the IRS with attached Form V.
Are there any charges for e-filing Form 2290 on Tax2290.com?
Yes, Tax2290.com charges a small service charge of $29.99 per 2290 returns. Also, we offer package prices for e-filing Form 2290 multiple vehicles based on the fleet size. You will get economical Form 2290 e-file services on our platform.