Hey there, truckers! Tax2290.com takes this opportunity to wish you a happy fourth of July. In the event of Independence Day, the new tax season for form 2290 HVUT is also starting, and all truck taxpayers should file their form 2290 tax reports to the IRS and get the schedule 1 copy to continue the trucking operations on the public highways smoothly.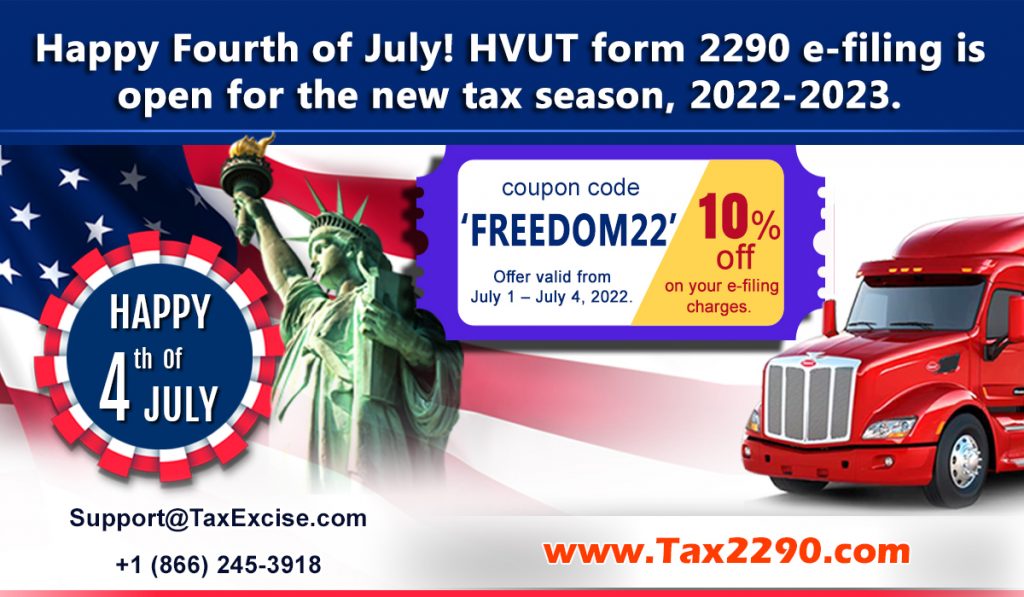 E-file form 2290 at Tax2290.com!
E-filing form 2290 has lots of advantages over paper filing it by visiting the IRS office or mailing the form 2290 to the IRS. Also, IRS made it compulsory for all the truckers with 25 or more vehicles in their fleet to e-file form 2290 online through an IRS-approved HVUT form 2290 service provider. Tax2290.com is the best service provider approved by the IRS specializing in form 2290 online e-filing services. Truckers and taxpayers can register at Tax2290.com and e-file their form 2290 directly to the IRS. We offer the most economical and pocket-friendly form 2290 e-filing services. It costs just 29.99$ to e-file form 2290 for a single vehicle. You can get simple and accurate e-filing solutions from Tax2290.com.
Any errors in your form 2290 or schedule 1 copy cause much confusion. E-filing form 2290 is the best option to avoid any errors in your truck tax reports because every process in the form 2290 is automatic, and you can double-check your tax reports before you transmit them to the IRS. Also, you can easily correct important information in case you got it wrong in the first place through the e-filing process. For example, VIN is essential information in your tax returns, and schedule 1 copy. If you typed it wrong and received the schedule 1 copy with the incorrect VIN, you can easily apply for VIN correction and get the revised schedule 1 copy within a few minutes. Like this, form 2290 e-filing at Tax2290.com has many advantages and benefits. Visit our website to know more about form 2290 online filings. 
Use the coupon code, and let's celebrate this fourth of July together!
We all know the importance of tax payments and their crucial role in our country's greatness. To celebrate our nation's independence and encourage taxpayers to e-file their truck taxes online, Tax2290.com is offering a special discount for all the truck taxpayers. Use the coupon code 'FREEDOM22' to get a flat 10% discount on your form 2290 e-filing charges. This special Independence Day offer is valid from July 1 to July 4, 2022. We request all the truckers to e-file form 2290 online at the beginning of the tax season and get the schedule 1 copy from the IRS on time.  For queries and support, please get in touch with our customer help desk at 1-866-245-3918 (toll-free) or write to us at support@taxexcise.com; we will reply to you promptly.