Tax2290.com is offering a special discount on form 2290 pre-filing to celebrate this Father's Day. We all know that trucking moves America forward; many fathers are working hard in this trucking industry and making ends meet for their families with their service to the nation. To honor them, Tax2290.com offers a special coupon to pay our tribute to all those hardworking fathers in the trucking industry.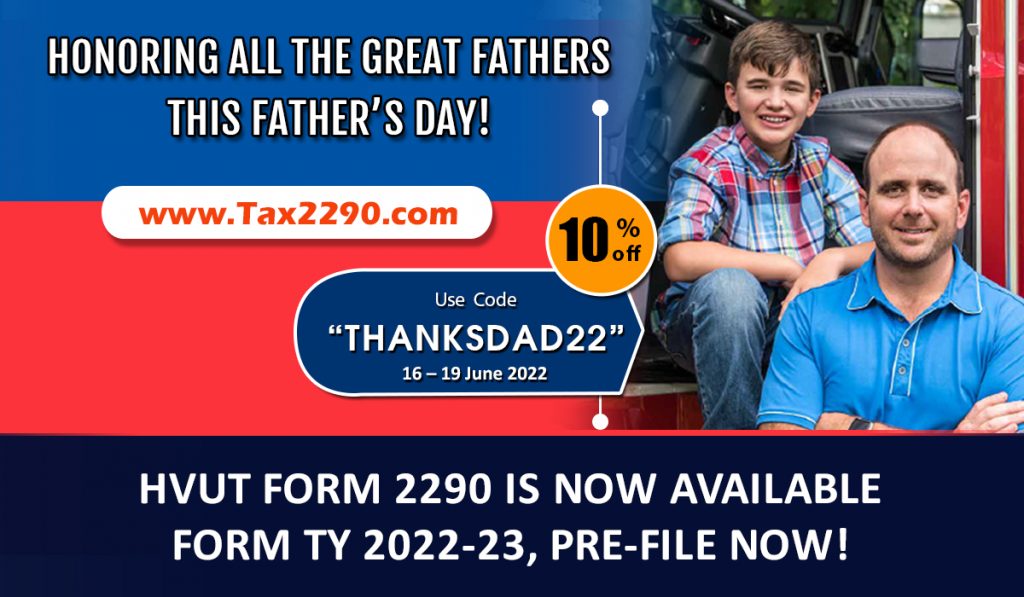 Form 2290 Pre-filing at Tax2290.com!
The upcoming tax season for this year, TY 2022-2023, is approaching soon. The IRS will start accepting the form 2290 truck tax reports for the new tax year around the first week of July 2022. All truckers will be rushing to file form 2290, report their truck taxes, and get the IRS schedule 1 copy to continue their trucking operations. Therefore, the IRS gets crowded during the beginning of tax season, and the form 2290 tax process will get delayed due to the crowds. Tax2290.com has introduced the form 2290 pre-filing method to give a head start to our customers to file their form 2290 tax reports days ahead of the tax season. Truckers can easily pre-file form 2290 online at Tax2290.com and stay relaxed during the tax period. But the IRS will only accept form 2290 at the beginning of July. So, we will securely hold your pre-filed truck tax reports and transmit them to the IRS once they start receiving them. Your form 2290 will be among the first 2290 tax reports to reach the IRS, and you will get the schedule 1 copy once the tax season beings, thanks to your prior form 2290 e-file at Tax2290.com.
Use the coupon code to save big this Father's Day!
Let's celebrate Father's Day with our special coupon code to save big on your form 2290 pre-efiling charges. Tax2290.com is an IRS-approved modernized form 2290 online e-filing service provider. You can pre-file form 2290 at the most economical and pocket-friendly prices. Use the coupon code 'THANKSDAD22' and get a flat 10% discount on your form 2290 pre-filing preparation fees. This Father's Day celebration offer is valid from 16th to 19th June 2022. SO, pre-file form 2290 today and enjoy the Father's Day offer at Tax2290.com.