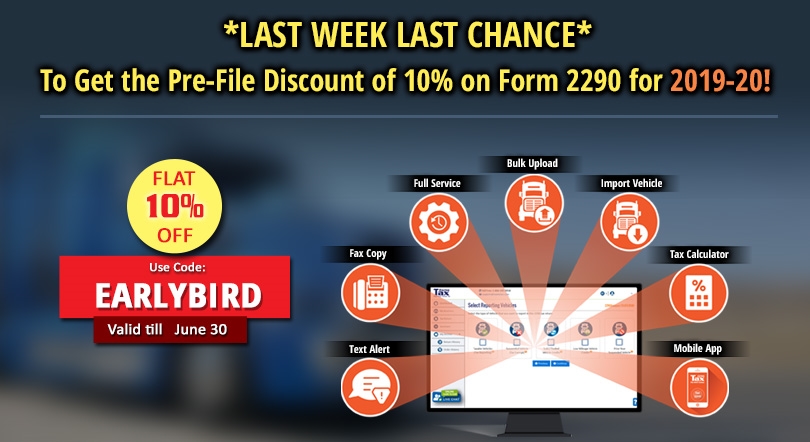 In our day-2-day lives, We have always been stuck with deadlines, deadline to submit a project, deadline to submit a proposal but none of these is compared to the deadline for filing and paying our dues to Uncle Sam, defying the deadline by Uncle Sam will be considered egregious and could be an imminent threat not only to us but also to our lively hood. And with the Form2290 expiring by June 30th we are all in a rush to file our return on a timely manner.
Having said that, we at www.taxexcise.com have decided to provide a lasting solution to the relationship between you and the IRS, and with the E-filing option and us being the first to obtain IRS approval as an E-filing service provider you are assured of an outstanding experience.
As your Tax form 2290 for the period July 2018 through June 2019 will expire by the end of June, you have to renew them For TY2019 Immediately. Avail 10% OFF your e-file service fee when you renew your TY2019 Form 2290 at www.Tax2290.com.
www.TaxExcise.com / www.Tax2290.com – Products of ThinkTrade Inc., has already begun to accept Form 2290 for the upcoming Tax Year 2019 – 2020 on a Pre-filing Basis. By Pre-Filing your HVUT Form 2290 you will be among the First set of Tax Filers who will be receiving their Stamped Schedule 1 Copy, the Proof for filing Your HVUT.
The IRS May not accept your tax returns until the Tax period begins, however you can Pre-File them using www.TaxExcise.com / www.Tax2290.com, Your Tax return will be submitted to the IRS as soon as they open the E-filing Gates. You will be among the ones who will be receiving their Stamped Schedule 1 copies in the First week of July.
For support feel free to reach us @ 1-866-245-3918 or write to us @ support@taxexcise.com or Ping our Tax Experts using the LIVE CHAT Option on the Website.