Hello, truckers! We all know that the tax period for this year has already begun, and IRS is accepting form 2290 truck tax reports from the truckers. The current tax period started in July 2022, and it will end in June 2023. All truckers must file form 2290 and report the truck taxes to the IRS in advance to operate their heavy vehicles and trucks on the public highways of the United States. August 31, 2022, is the last date to report form 2290 to the IRS for this tax period, 2022-2023. Therefore, we request the truckers and trucking taxpayers to e-file form 2290 at Tax2290.com today and stay ahead of the deadline.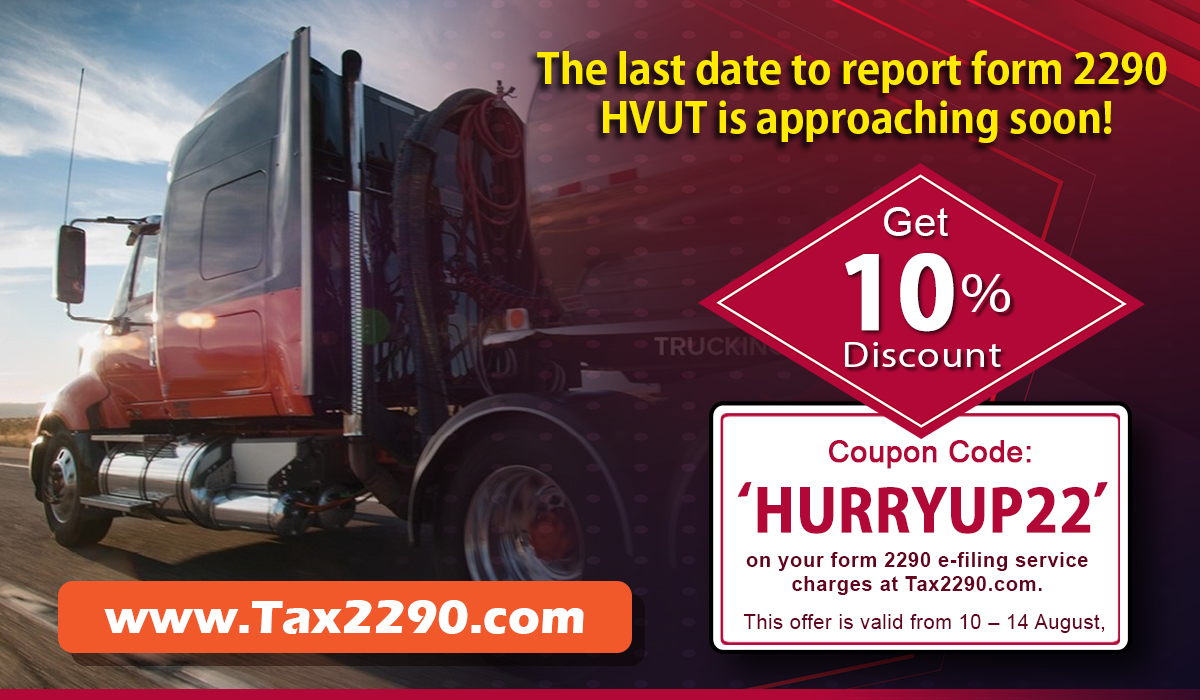 E-file form 2290 at Tax2290.com!
Tax2290.com is an IRS-approved modernized form 2290 online e-filing service platform. Truckers and truck taxpayers can easily register at Tax2290.com for free and e-file form 2290 HVUT directly to the IRS at the most pocket-friendly prices. You can also e-file form 2290 VIN corrections, amendments, and refund claims at Tax2290.com.
Once you transmit your truck tax returns to the IRS, you will get the IRS digitally stamped or watermarked schedule 1 copy directly to your email ID. Usually, this form 2290 reporting process takes a lot of work and time through the conventional paper filing method. But that's not the case in form 2290 e-filing; you can complete your form 2290 e-file process in just a few steps and get the schedule 1 copy within a few minutes. The whole process is smooth, accurate, and less time-consuming. There will be no margin of error since the entire process is automatic. We have a web application and dedicated mobile applications for Android and iPhone users. So, everyone can conveniently e-file form 2290 at Tax2290.com from the comfort of their home or office.
Use the Coupon Code to save big!
The last date to e-file form 2290 HVUT to the IRS is August 31, 2022. Tax2290.com is offering a special discount for all truck taxpayers to utilize as the deadline is approaching soon. Use the coupon code 'HURRYUP22' to get a flat 10% discount on your form 2290 e-filing charges. This special offer is valid from August 10 to August 14, 2022. We request all the truckers to e-file form 2290 online at the beginning of the tax season and get the schedule 1 copy from the IRS on time. For queries and support, please get in touch with our customer help desk at 1-866-245-3918 (toll-free) or write to us at support@taxexcise.com; we will reply to you promptly.