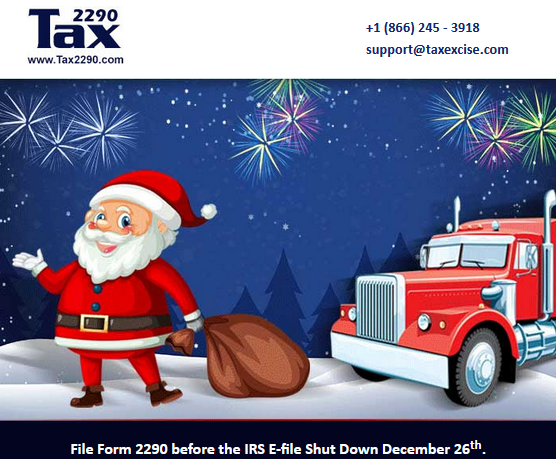 Christmas time is here or as we like to call it, "The most wonderful time of the year". As the holiday season is a few days away we at taxexcise.com would like to wish you a Merry Christmas filled with peace, love and Joy. Christmas is all about doing a little something Extra and our truckers do not fail to impress us by doing what they do best which is to spread the Christmas cheer. This holiday season we would like to wish all those away from home busy delivering presents a Merry Christmas, after all the happiest people are those who make others happy.
A message to all our Santa's of the trucking industry, your license to be in business this Christmas is the IRS Form 2290 which should stay compliant with the IRS regulations in order to deliver your bag of presents. Although the IRS states that your pro-rated Form 2290 is due by December 31st for new vehicles first used in November we strongly recommend you to file before the Christmas holidays begin as the IRS E-file services will not be operational from December 25th until the first week of January.
The IRS may not be available to assist you during this shutdown period however any tax return filed during the Shutdown/Cutover time will be held securely in our servers and the IRS stamped Schedule-1 copy will be made available once the IRS is up and running. Hence do E-file before December 25th if you do require the Schedule-1 copy ASAP.
Our Tax Experts at www.TaxExcise.com / www.Tax2290.com will also be available to assist you even during the Production cutover time. Feel free to reach us @ 1-866-245-3918 or write to us @ support@taxexcise.com you can also drop us a message on the LIVE CHAT option available on our website.
We are always interested in suggestions that would allow us to improve upon our already high standards and encourage you to submit your thoughts here: https://g.page/Tax2290/review
Happy and Safe Trucking!