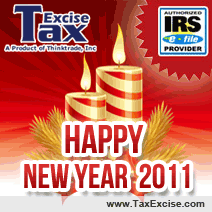 The holidays are a great time for keeping in touch with family and friends. It's Holiday Season!!! ThinkTrade, Inc. and TaxExcise.com wishes you all a very Happy and a Prosperous New Year, 2011.
May the dawning of this New Year, fill your heart with new hopes, open up new horizons and bring for you promises of brighter tomorrows.
Happy and Safe Trucking!!!
TaxExcise.com / Tax2290.com
–always with you–