The new tax season for form 2290 HVUT is going to start soon. Tax2290.com offers form 2290 pre-filing services to give our customers an early-bird chance to e-file form 2290 tax reports before the tax period. We started this service over a month ago to give the truckers a stress-free chance to file their form 2290 tax returns. Many truckers and taxpayers are using this opportunity to pre-file form 2290 truck taxes ahead of this season. The pre-filing days are coming to an end as the tax season starts by the first week of July. So, we request the truckers to avail themselves of this form 2290 pre-filing chance to file their truck tax returns and stay relaxed!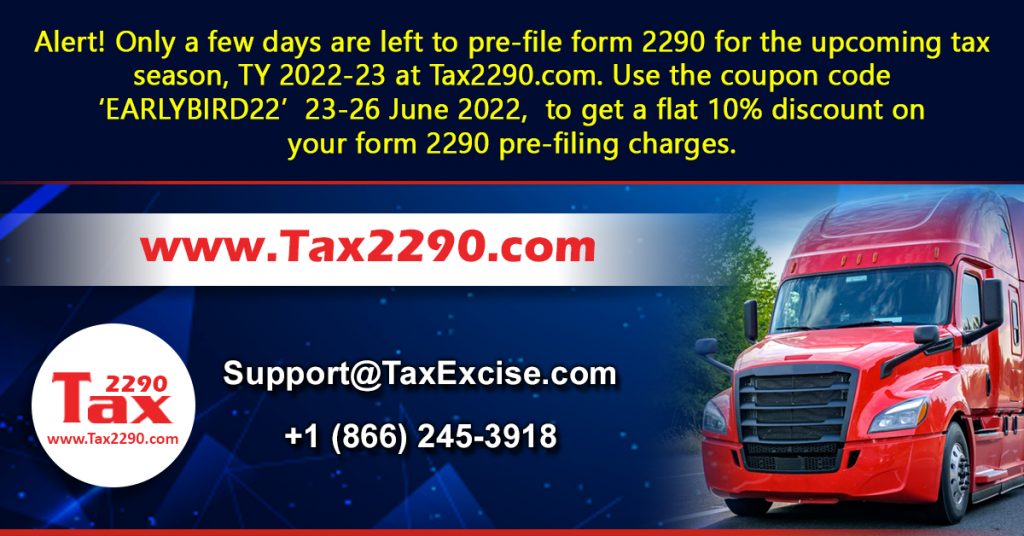 Form 2290 Pre-filing at Tax2290.com
IRS only accepts the HVUT form 2290 when the tax season actually starts. Therefore, for this tax season TY 2022-2023, IRS will accept form 2290 by the first week of July 2022. But IRS will be crowded with truckers and taxpayers looking to file their form 2290 tax reports and get the schedule 1 copy. IRS will be swarmed with 2290 tax reports and will take their time to process the tax returns. To overcome this, Tax2290.com offers form 2290 pre-filing services where you can prepare and e-file form 2290 tax reports with us. We will securely hold your truck tax reports in our system and transmit them to the IRS once they start accepting form 2290 for the tax season. This way, you can stay ahead of the crowds and prepare your tax reports peacefully. Your form 2290 tax reports will be among the first to reach the IRS. Then, they will process it immediately and send the schedule 1 copy. You can get the official IRS schedule 1 copy directly to your email at the beginning of the tax season. You can also pay the tax dues at the time of your form 2290 processing through any of the IRS-approved online payment methods.
Use the coupon code and save big!
Pre-filing form 2290 has a lot of advantages for all the trucking taxpayers. Tax2290.com is offering a special coupon code 'EARLYBIRD22' for our 2290 pre-filers. Use this coupon code to get a flat 10% discount on form 2290 pre-filing charges at Tax2290.com. This offer is valid from 23-26 June 2022. As the form 2290 pre-filing will end in just a few days, we call the truckers to use this chance, pre-file form 2290 online and save big!