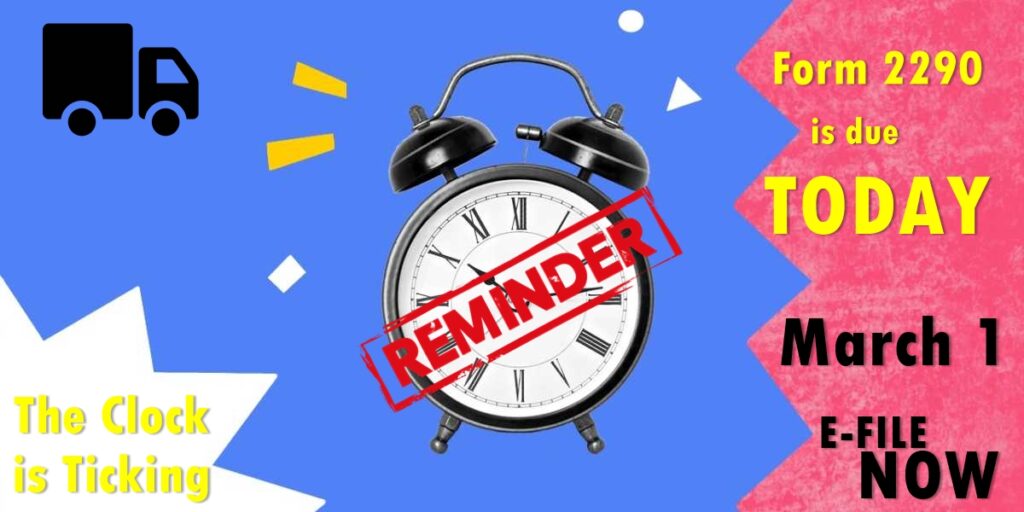 Taxes aren't everyone's favorite part of life, but if we take care of them before the deadlines, we can eliminate the stress. Recently filing tax forms and paying tax fees has been a stressful task due to the pandemic, but there is more to it, the "HVUT". The Heavy Vehicle Use Tax (HVUT) is an annual charge imposed on heavy vehicles with recorded gross weights of 55,000 pounds or more that travel on public highways. The weight of the truck, trailer, and load are added together to calculate the total taxable weight of a vehicle.
Heavy Vehicle Use Taxes must be filed on an annual basis using Form 2290. The Heavy Vehicles Tax Cycle starts in July and the filing deadline is August 31st for each cycle. But this is not the same for the new vehicles first put into service mid-tax year. For instance, March 1st, 2021, Today, is the due date to file Form 2290 for any new vehicle or vehicle first used in the Month of January.
The Pro-rated HVUT Form 2290 is now due today, March 1st, 2021 for the vehicles first used since January 2021. The IRS allows 60 days to file the Form 2290 to get your Vehicle Plate/ Tag's renewed for the tax year. E-File your Form 2290 now by logging into www.taxexcise.com and receive your Stamped Schedule 1 copy in minutes.
For the next few months until June 30th, 2021, if the vehicle is to be driven less than 5,000 miles (7,500 miles in case of Agricultural use) you can report the vehicle under Suspended/ Tax Exempt Category. If the vehicle is completely in use and to be driven over 5,000 miles until June 30th, 2021 you can report it as a Taxable vehicle and pay the taxes on those vehicles.
For a walkthrough or assistance on your Form 2290 electronically filing, reach us @ 1-866-245-3918 or write to us @ support@taxexcise.com or Ping them using the LIVE CHAT Option available on the website. Always E-file through an IRS Authorized E-file service provider participating in the IRS e-file program for excise taxes, such as www.tax2290.com. E-Filing is required by the IRS if you are reporting 25 or more trucks on a return.