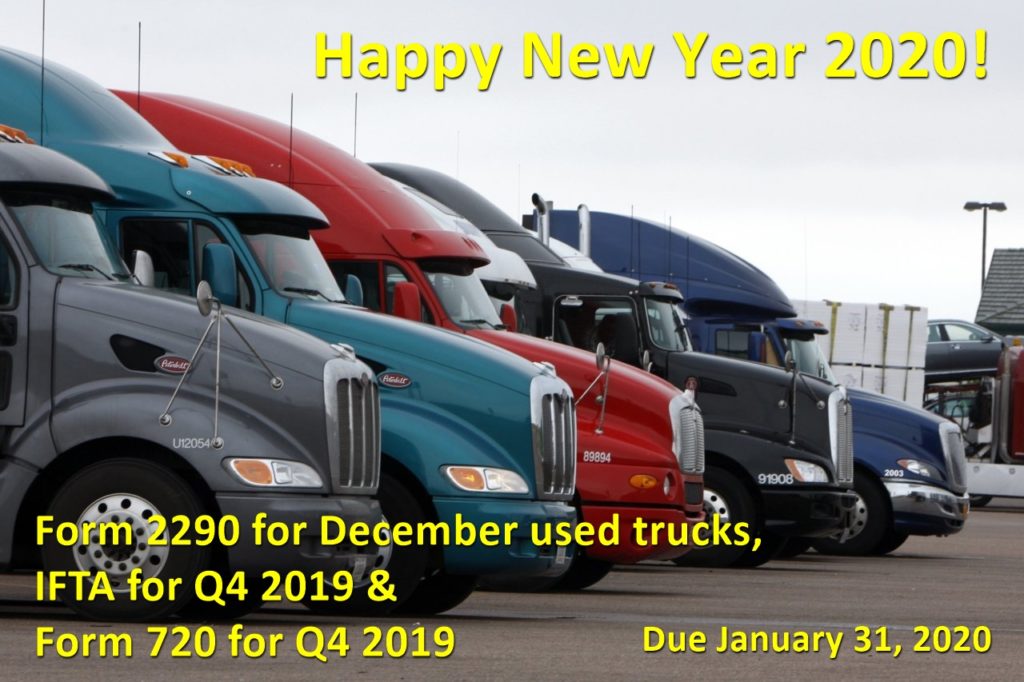 "Celebrate endings—for they precede new beginnings." —Jonathan Lockwood Huie
Yet another year to start as time passes by, like an instant we forget to remember things that we ought to do. One of those things is taxes! Yeah, the taxes you hear it right. Amongst the busiest of jobs is what you do constantly on the road to deliver your goods, your prime focus will be on your job but not on anything else. "You need to get it done!" Not to worry, we are here to remind you of anything relating to your trucking needs.
We hope you had a great start of the year and spending time with your families after months-long trips. It's time to renew your taxes and a total of three things need to be done before the month-end. Do you have a new truck that you bought in the month of December? Well your prorated HVUT Form 2290 taxes are due by January 31st, 2020. And so the Q4 season to renew your IFTA's and 720 taxes, for the 4th quarter of October 2019 to December 2019 is due by the same date as well. What are you waiting for? Go ahead and report them now instead of rushing up at the last moment. E-file through www.Taxexcise.com / www.Tax2290.com to avoid complicated tax calculations and confusing tax Jargon's that comes with these Tax Forms.
Also, the IRS servers are still under shutdown for server maintenance since December 26, 2019, but they will resume services starting January 7th, 2020. And any returns filed during the time break and in the next couple of days, your schedule-1 copies will be processed on January 7th, 2020. We hope these reminders would help you kick start your trucking for this year ahead.
Feel free to reach our Team @ 1-866-245-3918 or write to us in support@taxexcise.com or ping them using the LIVE CHAT option available on the website.
We wish you all a Happy New Year and a great year ahead!