Hello, truckers! The next truck tax season is just a few weeks away. Truckers must get ready to prepare Form 2290 truck taxes and report them to the IRS when they accept truck tax reports on the first week of July 2023. And they must get the stamped Schedule 1 copy within the deadline to smoothly continue their trucking operations on public highways.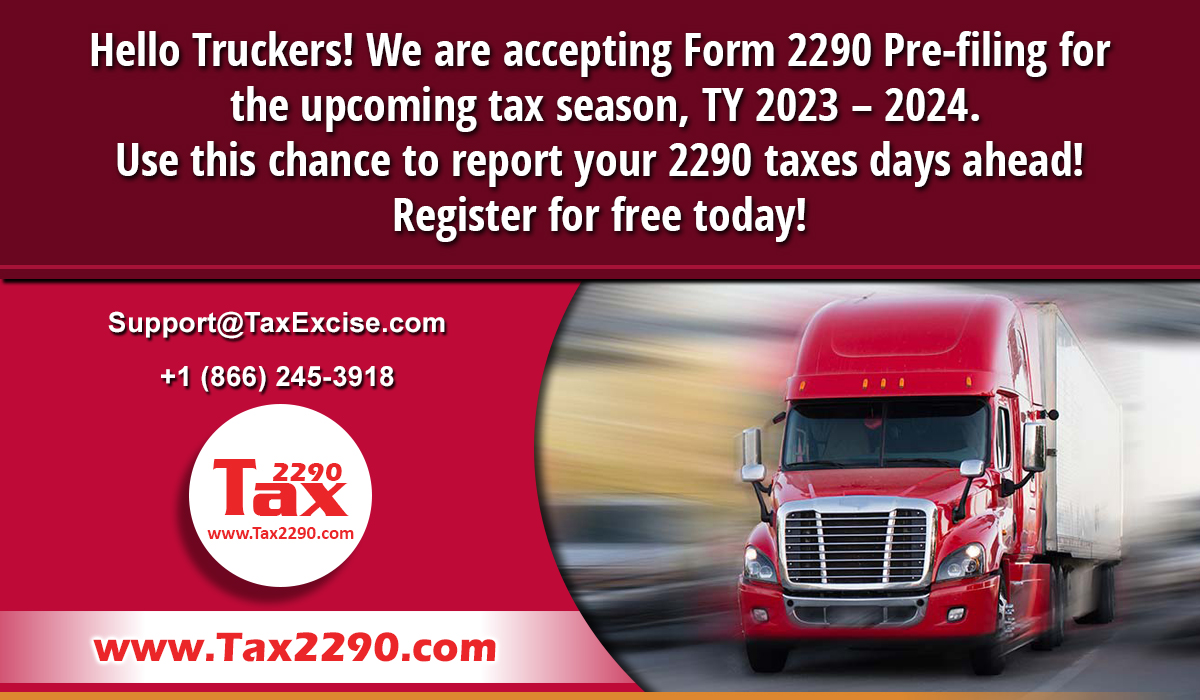 Truckers should not miss the deadline to report Form 2290.
Generally, the truck tax season starts in July every year and last till next June. The upcoming tax season begins on July 2023 and ends on June 2024. Therefore, truckers and trucking taxpayers must report Form 2290 HVUT and get the IRS Schedule 1 copy as proof of payment by August 31, 2023. Truckers should not miss the deadline because IRS charges penalties, late charges, and interests over tax dues. Also, you cannot operate your trucks without a valid Schedule 1 receipt.
Pre-file Form 2290 to stay ahead of the seasonal rush!
It is essential for all truckers to file Form 2290 and get the Schedule 1 copy within the deadline. At the same time, IRS will handle lots of Form 2290 requests during the beginning of the season as many truckers will file Form 2290 tax reports. Therefore, it is tricky for them to process all tax reports and issue stamped Schedule 1 copies on time. To overcome this seasonal surge, Tax2290.com is now accepting Form 2290 pre-file for the upcoming tax season, 2023 – 2024. You can prepare your Form 2290 tax returns and e-file them on our platform weeks before IRS starts accepting Form 2290 for TY, 2023-24. We will securely hold your tax reports and transmit them to the IRS once they open for the new tax season. You can pay your taxes online through secured gateways when the IRS processes your tax returns. Your Form 2290 reports will be among the first tax reports to reach the IRS for processing, and you will get the IRS Schedule 1 copy at the earliest.
Pre-file Form 2290 on Tax2290.com now!
Register for free at Tax2290.com or sign in to your existing account, choose the upcoming tax season, 2023 – 2024, prepare your tax reports, and submit them. You will get the IRS digitally watermarked Schedule 1 copy to your email when the IRS finish processing your tax returns at the beginning of the season. You can visit our website or follow us on social media to learn more about Form 2290 pre-file. You can also contact our customer support desk at 1 – 866 – 245 – 3918 (toll-free) for all queries regarding form 2290 pre-filing, and you can also write to us at support@taxexcise.com. We will respond to you promptly.