Hello, truckers! Tax2290.com makes your form 2290 filing smooth with our innovative technology and user-friendly interface. Here, you can e-file form 2290 online with perfect accuracy and comfort to avoid all the obstacles you endure while filing your truck taxes to the IRS. We are an IRS – approved form 2290 modernized e-filing service provider with a dedicated web and mobile platform to e-file 2290 truck taxes directly to the IRS and get the schedule 1 copy to your registered email address. You can download the schedule 1 copy from your email, print it and use it as proof of form 2290 tax payment with the authorities and government.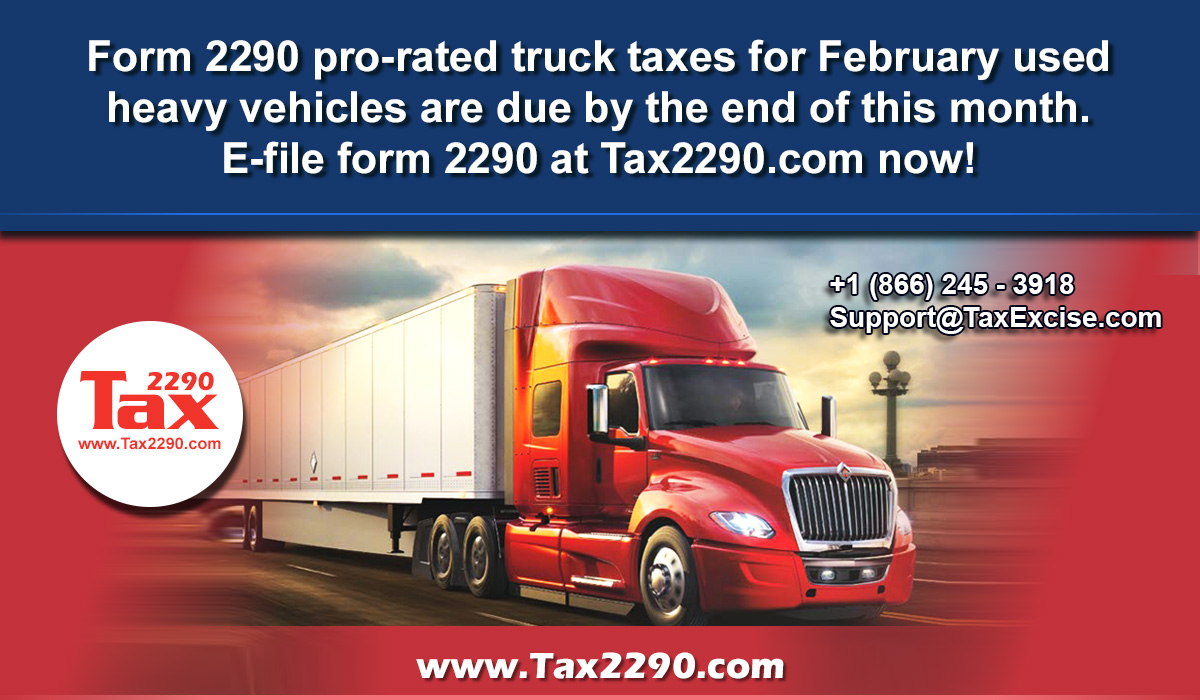 E-filing form 2290 is the best approach to report your truck taxes to the IRS.
We understand that reporting your truck tax returns to the IRS and paying the tax dues is crucial. Truckers endure this every year and find it hard in their busy schedule. As a result, they go to paid preparers or CPAs to report the form 2290 truck taxes on their behalf. Also, paper filing form 2290 IRS consumes much time and is prone to human-made errors. Getting a stamped schedule 1 copy can take a few days to weeks, based on the IRS availability and processing speed. On the other hand, e-filing form 2290 online at Tax2290.com beats all the hurdles you face while reporting and paying your 2290 truck taxes to the IRS. First and foremost, the advantage of Tax2290.com is you can save a lot of time and money. You can prepare your form 2290 tax reports using our innovative features, transmit the tax reports directly to the IRS, pay your tax dues online using all IRS – approved online payment gateways and get the instant digitally stamped schedule 1 copy to your email in a lesser amount of time. The entire process will take 20-30 minutes to complete, and you can do the e-filing process by yourself by following the simple steps in our Tax2290.com platform. You can do all these from the comfort of your home/office using your PCs and smartphones without help from a third party. Also, there is no possibility of making human-made errors as every process is automatic, and it is easy for the IRS to process your 2290 tax returns without any stress.
IRS encourages every trucker to e-file form 2290 online!
IRS made form 2290 online e-filing mandatory for truckers to report form 2290 tax returns for 25 or more heavy vehicles and trucks. Also, they encourage all truckers, even the owner-operator who files for a single heavy vehicle, to e-file form 2290 online through an authorized service provider because it is easy for the IRS to process the tax returns and issue the stamped schedule 1 copy to the truckers.
Pro-rated form 2290 truck taxes for February used vehicles are due soon!
Truckers with heavy vehicles or trucks first used in February 2023 must remember that form 2290 HVUT reports are due by the end of this month. They must file form 2290 tax reports on a pro-rated basis from February to June 2023 and pay the tax dues on or before March 31, 2023.