Taxpayers should file their tax return by the deadline even if they cannot pay their full tax bill. Taxpayers who owe tax and don't file on time, may be charged a failure-to-file penalty. This penalty is usually five percent of the tax owed for each month, or part of a month that the tax return is late, up to 25%.
If an individual taxpayer owes taxes, but can't pay in full by the April 18, 2022, deadline, they should:
File their tax return or request an extension of time to file by the April 18 deadline.
People who owe tax and do not file their return on time or request an extension may face a failure-to-file penalty for not filing on time.
Taxpayers should remember that an extension of time to file is not an extension of time to pay. An extension gives taxpayers until October 17, 2022, to file their 2021 tax return, but taxes owed are still due April 18, 2022. 
Tax Season 2022 and the deadlines are just around the corner, IRS has many ways to pay your tax liabilities and choose a right option to pay the taxes that you owe on-time and complete reporting your tax returns electronically. If you need additional time to report the tax returns apply for Extension of Time using Form 7004 (Business Taxes) and Form 4868 ( Personal Taxes) at https://ExtensionTax.com.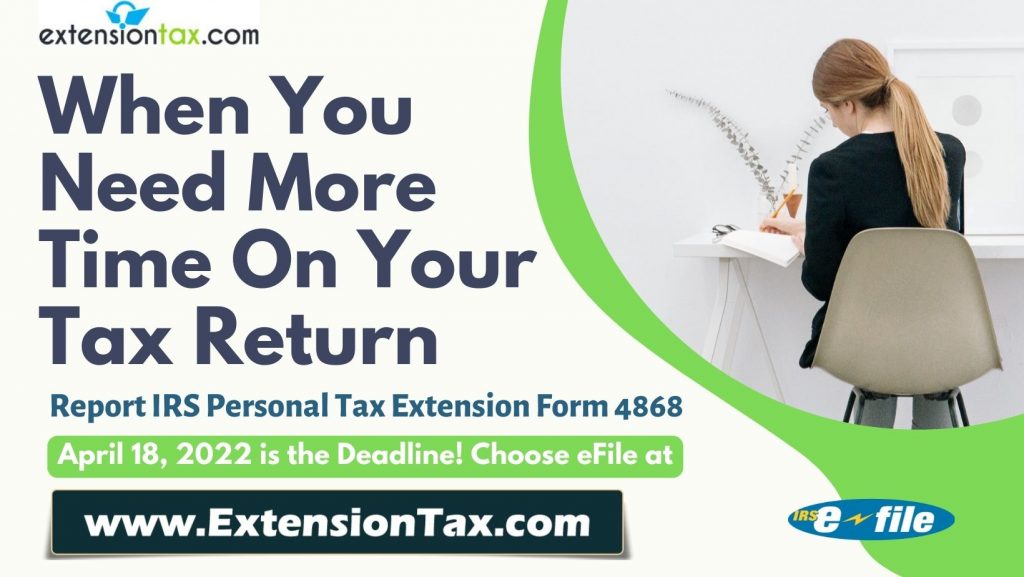 To get an extension to file, taxpayers must do one of the following:
Pay as much as possible by the April 18 due date.
Set up a payment plan as soon as possible.
Taxpayers who owe but cannot pay in full by April 18 don't have to wait for a tax bill to set up a payment plan.
They can apply for a payment plan on IRS.gov.
Taxpayers can also submit a payment plan request using Form 9465, Installment Agreement Request.
Interest is based on the amount of tax owed and for each day it's not paid in full. Interest rates are determined every three months and can vary, based on type of tax; for example, individual or business-tax liabilities. More information is available on the Interest on Underpayments and Overpayments page of IRS.gov.

More information:
What Is the Due Date of My Federal Tax Return or Am I Eligible to Request an Extension?
Tax Topic 653, IRS Notices and Bills, Penalties, and Interest Charges
Share this tip on social media — #IRSTaxTip: Taxpayers should file their tax return on time to avoid costly interest and penalty fees. https://go.usa.gov/xz8zA
---