As the world is moving towards digitalization, reporting your taxes has also been digitalized, where you can prepare and pay your taxes online. Unlike the paper filing method, online tax e-filing has proven effective, efficient and economical for all taxpayers in the United States. Therefore, IRS made e-filing mandatory for the truckers and trucking taxpayers reporting form 2290 HVUT for 25 and more vehicles in their fleet. Also, IRS encourages all truckers, even with a single heavy vehicle, to go for the form 2290 online e-filing method because it is the most accurate and easy for the IRS to process the 2290 tax reports.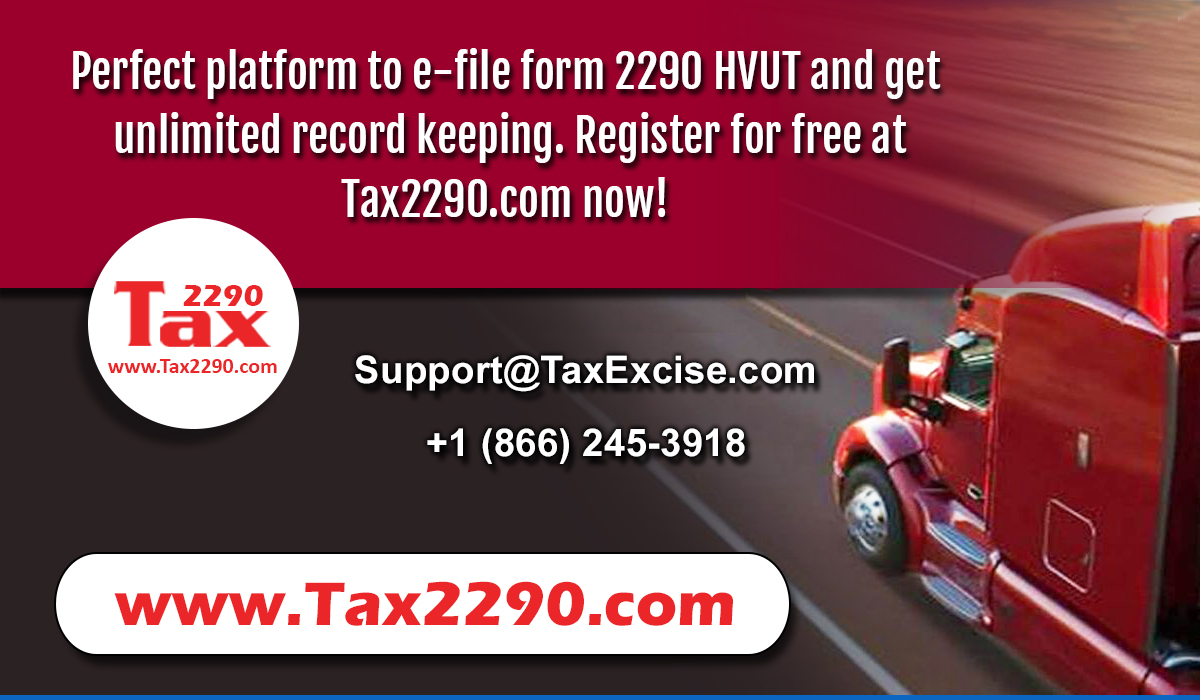 E-file form 2290 at Tax2290.com!
Tax2290.com is an IRS-approved modernized form 2290 e-filing service provider serving truckers to e-file form 2290 online directly to the IRS. Once you e-file form 2290 at the Tax2290.com platform, your tax reports are transmitted to the IRS immediately. They will process your tax reports and send the IRS digitally stamped/watermarked schedule 1 copy to your email address. You can finish your tax reports online, transmit them to the IRS and get the official schedule 1 copy in less time.
Get round the clock and unlimited record keeping services.
One of the essential features that Tax2290.com offers for our customers is unlimited tax record keeping. The IRS audits the taxpayers once in a while, and the 2290 truck taxpayers must maintain at least three years of tax records. Taxpayers should produce these records to the IRS at the time of audit. If you don't have your 2290 tax reports, IRS will fine you or take other severe actions. Therefore, you must keep three years of tax records. When you become a user of Tax2290.com and e-file form 2290 in our platform, your information, tax reports and schedule 1 copies are automatically saved in our system with your consent. You can keep all your tax records permanently on the Tax2290.com website. You can get your records from your profile's dashboard in a jiffy whenever the need arises. As our platform is available 24/7, you can access your tax records anytime.
Prorated form 2290 HVUT for October used heavy vehicles is due in a day!
Tax2290.com would like to take this opportunity to remind you that form 2290 prorated truck taxes for the heavy vehicles first used on October 2022 is due on November 30, 2022. You must e-file form 2290 HVUT and get the proper schedule 1 copy for your October used heavy vehicles and trucks within the due date. If not, the IRS will charge penalties, late fees and interests on your tax dues. E-file form 2290 at Tax2290.com and get the instant schedule 1 copy now! For more queries, please get in touch with our customer support executives at 1 – 866 – 245 – 3918 (toll-free) on all working days from 8 AM to 6 PM or write us at support@taxexcise.com.