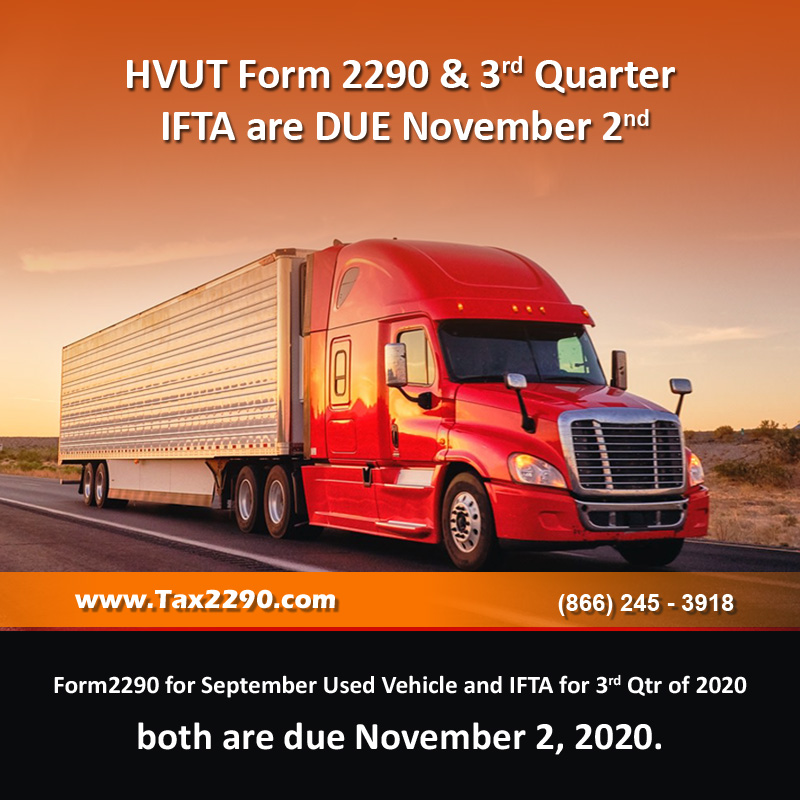 Deadlines are constant reminders that allow you to get tax returns completed on time and also stay compliant with the IRS. Paying taxes before the due date always gives you the upper hand.
We at www.taxexcise.com/ www.tax2290.com would like to keep you reminded of the forms that are due by end of this month:
Form 2290: The Federal Excise Tax Form 2290 also known as Heavy Vehicle Use Tax (HVUT) is due by November 2nd  for any new vehicle that was purchased or first put into service in the month of September.
IFTA: International Fuel Tax Agreement is due by November 2nd for the third quarter of 2020. IFTA is filed for vehicles that travel in at least 2 or more IFTA jurisdictions. All reports will have the amount of fuel used and mileage covered under each state jurisdiction traveled. IFTA fuel reports are due four times a year, the last day of the month after each quarter closes. Prepare this report for the third quarter of 2020 before the November 2nd deadline.
Being the only IRS Authorised E-File Service Provider that's over a Decade-Old it is important that we stand up to your expectations, what sets us apart as a company is our vast knowledge gained over the years.
For users who don't have access to a computer you can also use a mobile or tablet to download our android app simply by just selecting https://play.google.com/store/apps/details?id=com.taxexcise and for ios users https://apps.apple.com/us/app/tax2290-efile/id1475769017?ls=1
For any tax-related questions feel free to reach our help desk. Our three-way line of communication allows you to speak to us by phone @ 866-245-3918 or write to us at support@taxexcise.com, to have your questions answered instantly do also try out the LIVE CHAT option available on the Website.
Stay safe, stay compliant, and keep on moving our Great Nation forward.