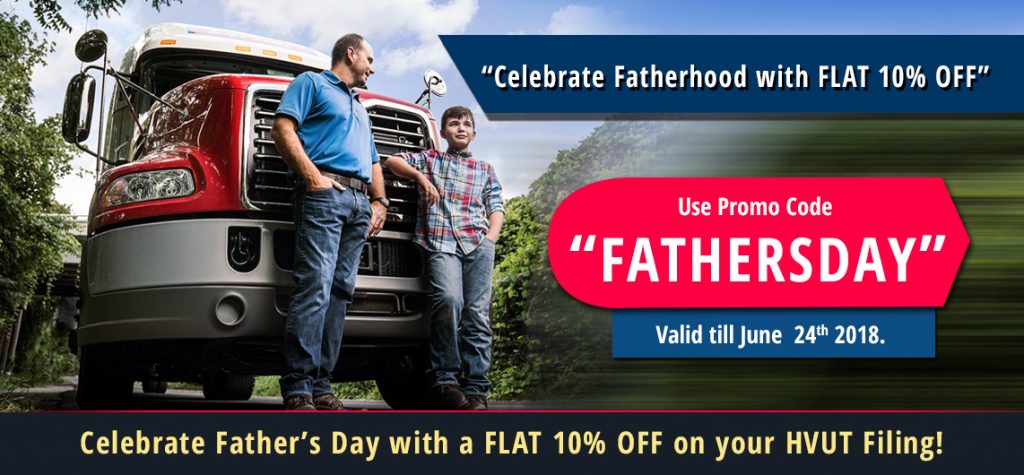 I want to congratulate all the men out there who are working diligently to be good fathers whether they are stepfathers, or biological fathers or just spiritual fathers. – T. D. Jakes
Every day is a Father's Day, simply because the Fact that they don't take a break from their roles and responsibilities as a dad. Most of the Kids without any hesitation will be proud to announce that their Role Model is their Dad. Anything that we do will sure be less to congratulate these Family Bread winners and no one will deny to these Fact. Dads with 9 to 5 Job can afford to spare some time with their kids, but that's not the case with Fathers who are into Trucking Business.
Well, though there are several ways to congratulate Dads on the occasion of Father's Day, we at www.TaxExcise.com / www.Tax2290.com – Products of Think trade Inc. have decided to keep the Celebration for a Week. Yes you read that right, we have decided to congratulate every Trucking Soul in our own Way. As a Well Known Fact the HVUT Form 2290 Pre-Filing has already began for the upcoming Tax Year 2018 – 2019, we are putting up a Father's Day Offer that would benefit not only the Dads Involved in Trucking but Everyone in the Hard Working Trucking Community.
NOW You can AVAIL a FLAT 10% OFF on our E-file Service Fee by Applying Promo Code "FATHERSDAY" which will be Valid for one complete week i.e. till Sunday June 24th. Once again we would like to Wish Every Father around the Nation a Very Happy Father's Day. Trucking Industry grab this Monday to Sunday Fathers Week Discount, Celebrate Fatherhood with by sharing this Information with your Fellow Trucking industry folks.
Feel Free to Reach us for any questions or queries @ 1-866-245-3918 or write to us @ support@taxexcise.com or chat with our Hand Picked, Industry's Best and Most Experienced Tax Experts by using the LIVE CHAT Option on the Website.