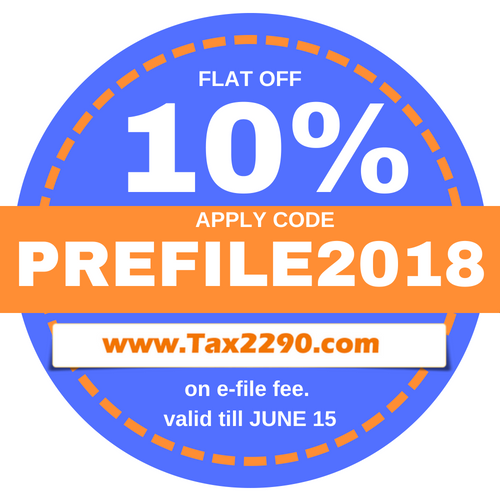 "Make Hay While the Sun Shines" One of the oldest sayings but will suit every situation. Pouncing on the opportunity is one of the mandatory skills to survive in this competitive world. Especially if the Opportunity is to save few dollars of your hard-earned Money it is a must do. Truckers and the Trucking Industry professionals work hard for the betterment of the country and earn very less for the tedious job they do.
Taxes are part and parcel of any business and it is unavoidable. One such tax filed by Truck Owners and Trucking Companies is the Heavy Vehicle Use tax (HVUT) Form 2290. This Tax must be filed annually for any heavy vehicle with a gross weight of 55,000 pounds are above. Since the tax Period for HVUT goes from July to June and the Tax is paid in advance by the beginning of Tax Year we are up for the Upcoming Tax Period 2018 – 2019.
www.TaxExcise.com / www.Tax2290.com – Products of ThinkTrade Inc., the First Ever IRS authorized E-file Service Provider for E-filing HVUT Form 2290 and the ONLY DECADE OLD IRS Authorized E-file Service Provider for E-filing HVUT FORM 2290 has already began to accept Form 2290 for the upcoming Tax Year 2018 – 2019 on a Pre-filing Basis. By Pre-Filing your HVUT Form 2290 you will be among the First set of Tax Filers who will be receiving their Stamped Schedule 1 Copy, the Proof for filing Your HVUT.
The IRS may not reward you for E-filing Your HVUT Form 2290 on time but we as an E-file Service Provider certainly feel that it is our responsibility to Encourage Timely Tax Payers. As a Token of Appreciation we Offer a FLAT 10% OFF on the E-file Service Fee, Grab this Discount before it expires by Midnight today. Use Promo Code "PREFILE2018" to avail this Discount, valid till Midnight June 15th 2018. HURRY UP YOU CAN SAVE UPTO $40 ON A SINGLE TRANSACTION.
For support feel free to reach us @ 1-866-245-3918 or write to us @ support@taxexcise.com or Ping our Tax Experts using the LIVE CHAT Option on the Website.