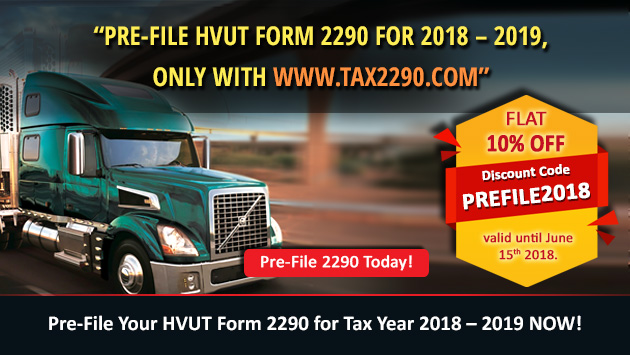 Don't worry when you are not recognized, but strive to be worthy of recognition – Abraham Lincoln
The above said fact is absolutely true, however it really hurts when you strive hard to meet or sometimes exceed others expectation and don't get recognized. If you are in a Profession that is meant to keep others happy and satisfied, for which you lose your precious time with your loved ones and continuously stay away from them for weeks sometimes months it HURTS!
Trucking is one such profession that needs complete dedication and consumes a lot of your precious Time. Hardworking and ever busy Trucking industry professionals work round the clock to keep our Nation Moving Forward. Without them we would have nothing to lead a peaceful life. Is that the only thing Truckers Do? NO! They also pay taxes for the betterment of our Country from their hard-earned Money. ONE Such Tax that they pay in advance for the upcoming Tax Year is the HVUT Form 2290.  The Tax Year for HVUT begins in July and goes on till June of the Following Year and the Taxes are paid in Advance in July and August.
GOOD NEWS:
Filing HVUT Form 2290 by walking into a Local IRS Office can take a complete day and Ever Busy Truckers cannot afford to spend one full day for Filing & Paying such a simple Tax Form. www.Taxexcise.com / www.Tax2290.com – Products of ThinkTrade Inc., Introduced E-filing of Form 2290 Decade ago to reduce the time spent on Filing Form 2290 and making it possible for Truckers and Trucking Companies to E-file this tax Form from any internet connected Computer or Mobiles.
GREAT NEWS:
After few years in to E-filing of Heavy Vehicle Use Tax (HVUT) Form 2290 we observed the necessity of getting this Tax form filed as soon as possible once the Tax Year begins in July. That's when we introduced the concept of PRE-FILING. With this Innovative concept Truckers and Trucking Companies can actually PRE-FILE their HVUT Form 2290 even before the Tax Year Officially Begins in July. The Tax Returns that are Pre-filed will be pushed with Top priority to the IRS as soon as they open their Gates to accept Tax returns for the Upcoming Tax Year and Acknowledgement for the same that is the Stamped Schedule 1 Copy will be Emailed as soon as the IRS Accepts the return.
BEST NEWS OF THE YEAR SO FAR:
To Appreciate and Encourage Trucking Industry Professionals who file and Pay Taxes on time, www.Taxexcise.com / www.Tax2290.com – Products of ThinkTrade Inc.,  Offers a FLAT 10% Off on the Service Fee. AVAIL this Discount by applying Discount Code "PREFILE2018" and SAVE UP TO $40 on a single Transaction Valid till June 15th 2018. For any more Questions or Queries contact our tax Experts @ 1-866-245-3918 or write to them @ Support@taxexcise.com or ping them using the LIVE CHAT Option on the website.