Hello, truckers! The new tax season is starting today. So, truckers must start reporting their Form 2290 taxes for the season from today. Also, Tax2290.com takes this opportunity to wish our trucking community a very Happy Fourth of July! Trucking is one of the most important businesses in the United States, and truckers' contribution is always impeccable for our nation's glory. We take this opportunity to express our gratitude and send warm Independence Day wishes to our truckers, customers, and users.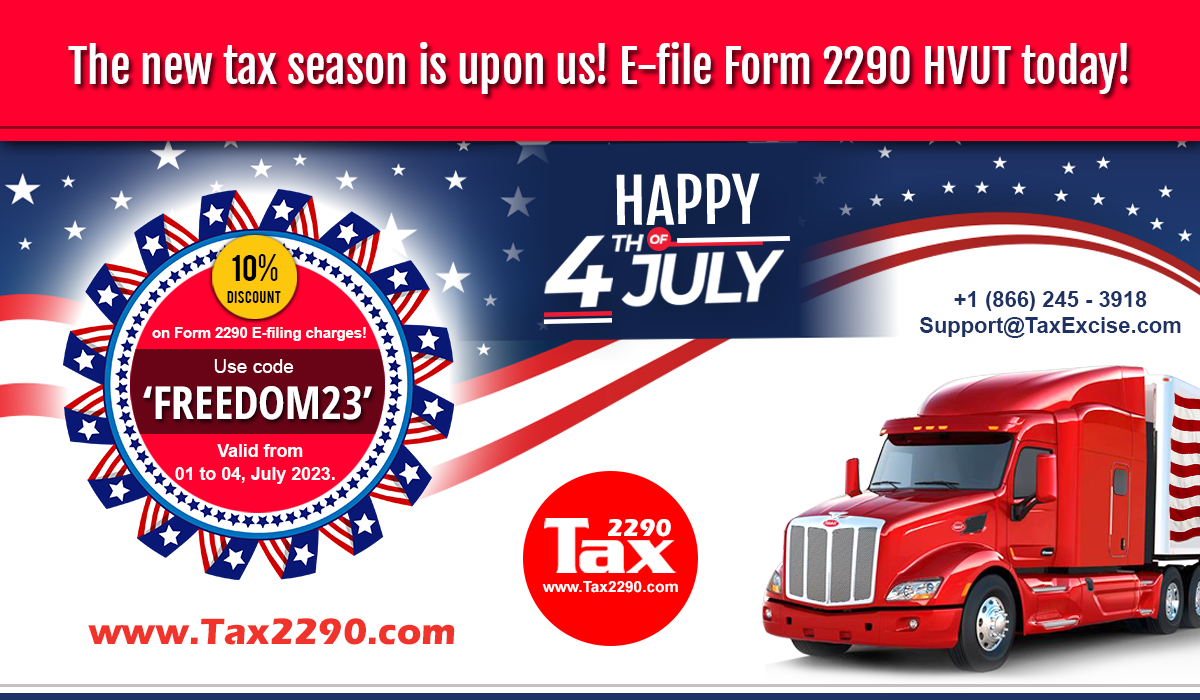 E-file Form 2290 this tax season.
The new tax season, 2023 – 2024, has started today and lasts till June 30, 2024. IRS will start accepting Form 2290 tax reports soon. So, E-file Form 2290 tax reports on Tax2290.com and have a smooth and hassle-free e-filing season. Tax2290.com is an IRS – approved modernized Form 2290 e-filing service provider. Many truckers and trucking taxpayers e-file Form 2290 tax reports with us and get their IRS Schedule 1 copy directly to their email.
IRS made Form 2290 e-filing mandatory for truckers reporting Form 2290 for 25 or more heavy highway vehicles. Also, they encourage single vehicle owners (owner-operators) to e-file Form 2290 online because it is easy for the IRS to process tax returns. Unlike the paper filing method, the E-filing method saves a lot of time for taxpayers and IRS because it is automatic and eradicates the chances of making errors. So, choose e-filing Form 2290 truck taxes this season to get simple, smooth, and accurate Form 2290 filing with the IRS.
Choose Tax2290.com as your e-filing service partner.
Tax2290.com provides a convenient online platform that helps you easily e-file Form 2290 online. You can follow a few simple steps to prepare your 2290 tax reports and transmit them to the IRS in a single click. IRS will process your tax returns at the earliest and immediately send the digitally watermarked Schedule 1 copy to your email. Your paper filing days are over; you don't have to wait in queue or mail your tax reports and again wait for weeks to get your stamped Schedule 1 copy. You can e-file Form 2290 and get the stamped Schedule 1 copy to your email in just a few minutes through the e-filing method. You can e-file Form 2290 online on Tax2290.com from the comfort of your home/office using your laptops, PCs, smartphones, or tablet devices. We have a dedicated mobile application to e-file Form 2290 easily using your smartphones for Android and iPhones. Also, we offer pocket-friendly Form 2290 HVUT e-filing services at just $29.99 per return.
Use the coupon code to save big!
Tax2290.com offers an exclusive discount for all trucking taxpayers to celebrate Independence Day. Use the coupon code 'FREEDOM23' to get a flat 10% discount on your Form 2290 e-filing service charge from Tax2290.com. This Independence Day special offer is valid from 01 to 04 July 2023. So, we request that all truckers and trucking taxpayers use this offer to e-file Form 2290 HVUT reports at the beginning of the season to stay ahead of the seasonal surge and get the Schedule 1 copy as soon as possible. With this, you can smoothly continue your trucking operations on public highways. To learn more about this offer, don't hesitate to contact our customer care desk at 1-866-245-3918 (toll-free) or write to us at support@taxexcise.com; we will reply promptly.