Hello, truckers! The new tax season is upon us. You must prepare and submit the Form 2290 tax reports for the whole tax year, July 2023 to June 2024. IRS will process your tax reports and give the stamped Schedule 1 copy as the acknowledgment of your tax filing. To make the process more convenient, IRS made e-filing Form 2290 online for truckers reporting Form 2290 HVUT for 25 or more heavy highway vehicles. Form 2290 e-filing is simple, smooth and accurate. It is also easy for the IRS to process tax returns without errors and hurdles. Also, e-filing Form 2290 saves a lot of time for taxpayers and IRS.
So, choose the Form 2290 e-filing method on Tax2290.com than paper filing to have a smooth HVUT filing season and get the IRS-stamped Schedule 1 copy on time. Let us look into the additional benefits of E-filing Form 2290 on Tax2290.com this tax season.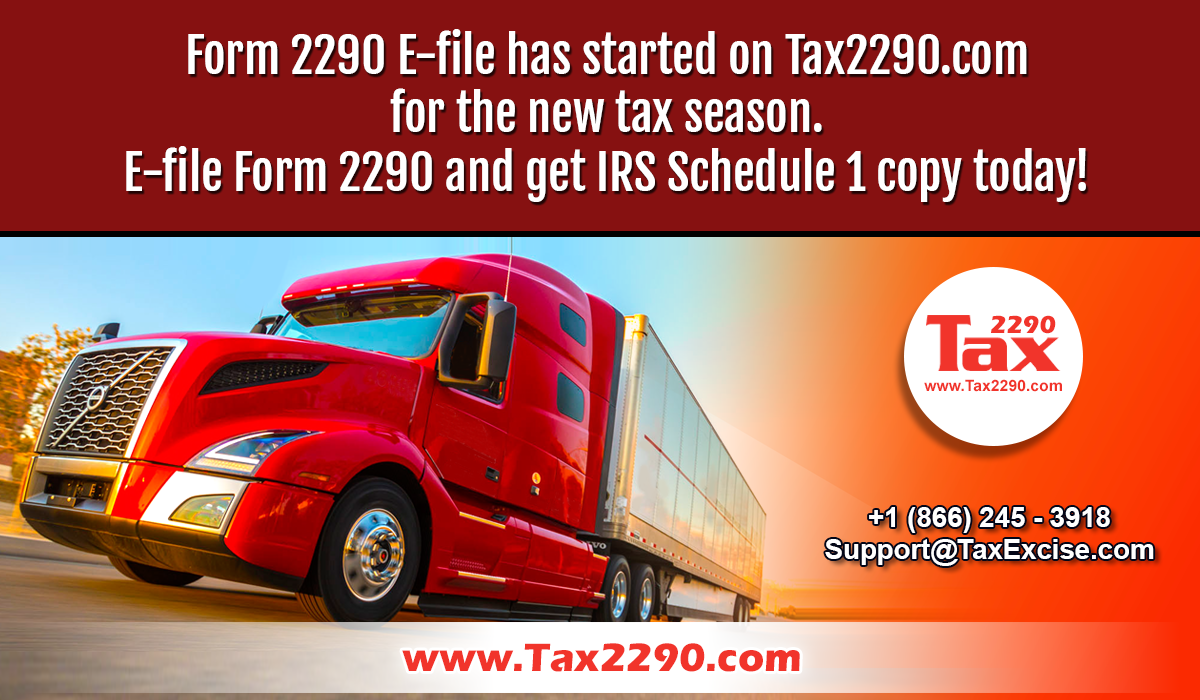 Smooth Form 2290 Online E-filing.
Tax2290.com offers a simple user interface where everyone can prepare Form 2290 tax reports in a few steps and report them to the IRS with a single click. You don't need expert guidance or technical expertise to e-file Form 2290 online on Tax2290.com. The entire Form 2290 e-filing process is smooth and easy. You can complete the process with 100% accuracy within a few minutes without any hurdles.
E-file Form 2290 Online from Anywhere.
You can e-file Form 2290 online on Tax2290.com from the comfort of your home or office. All you need is a smart device like a PC, laptop, smartphone or tablet; you can prepare your tax reports online, transmit them to the IRS and get the IRS Schedule 1 copy to your email. You will complete the entire Form 2290 tax reporting from anywhere you wish. We also offer mobile applications for Android and iPhone users; you can download them for free and e-file Form 2290 online effectively with your smartphones.
Quick Form 2290 Tax Processing.
Unlike paper filing, you don't have to wait in a queue to file Form 2290 reports or send them in the mail to the IRS and wait for a few more weeks to get the stamped Schedule 1 copy through the mail. You can quickly and accurately prepare your 2290 tax reports online and transmit them to the IRS on Tax2290.com within a few minutes. IRS will process the requests at once and instantly send the IRS digitally watermarked Schedule 1 copy directly to your registered email address. You can complete this process and get your Schedule 1 copy in less than an hour.
Instant Schedule 1 Copy.
You don't have to wait for weeks to get your IRS-stamped Schedule 1 copy. Instead, you will instantly get the IRS digitally watermarked/stamped Schedule 1 copy to your registered email once the IRS successfully processes your tax returns. You can download the Schedule 1 copy from your email address, print it and use it for all official purposes like registration, license renewals, insurance etc.
24/7 Access and Service.
Tax2290.com offers a round-the-clock service to access your Tax2290.com profile and records 24/7. You can log in anytime to access your tax records and information. Also, you can edit your information unlimited times and download your Schedule 1 copies for free. We provide the best customer care services to support your Form 2290 e-filing and related queries. Contact our customer support team at 1-866-245-3918 (toll-free) from 8 AM to 6 PM on all working days. Or write to us at support@taxexcise.com.