Hello, truckers! Truckers have started to e-file Form 2290 returns for the new tax period, 2023 – 2024, to get the Schedule 1 copy on time. The last date to e-file Form 2290 HVUT, August 31, 2023, is a few weeks away. So, truckers are seeking to report their taxes and get the Schedule 1 copy at the earliest to avoid last-minute tension and mishaps. If you haven't yet reported your Form 2290 tax returns for your heavy highway vehicles, e-file Form 2290 directly to the IRS today on Tax2290.com. We also have an exciting offer that helps you to save big on your Form 2290 e-filing charges on our platform.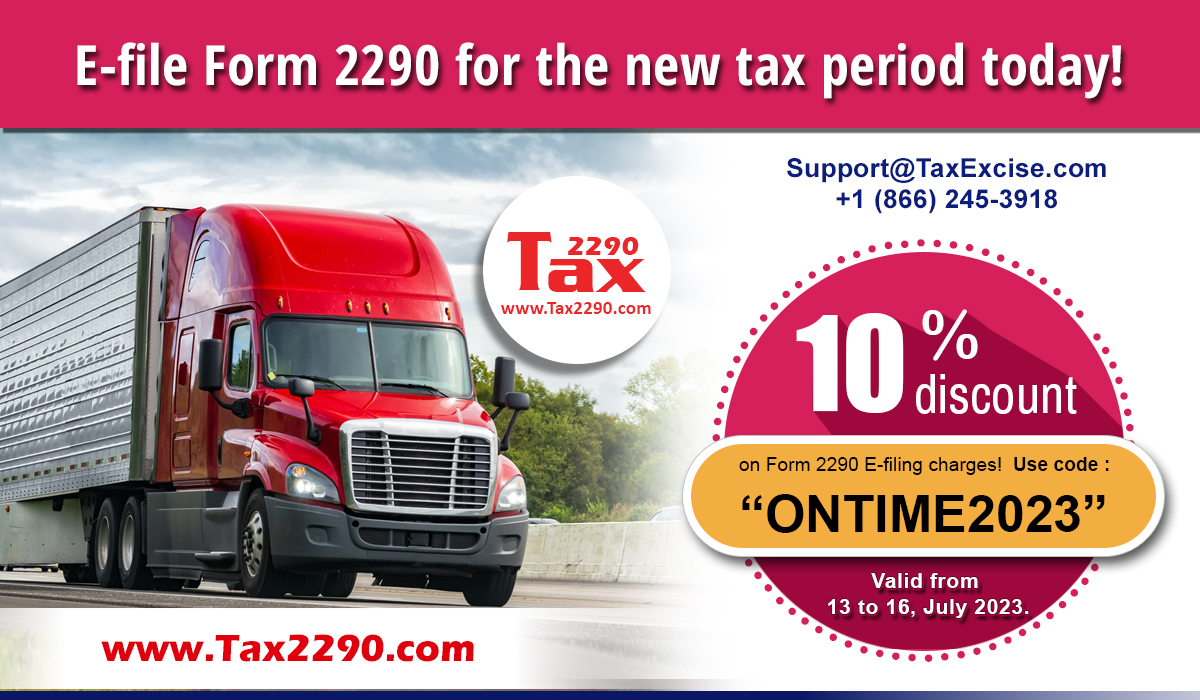 All heavy highway vehicles are liable for Form 2290 returns.
All truckers with taxable heavy highway vehicles must report Form 2290 tax returns for the entire tax season in advance and get the valid Schedule 1 copy as proof. Heavy vehicles with a total gross weight of 55,000 pounds or more and are estimated to cover more than 5,000 miles (7500 miles for agricultural vehicles) are entitled to Form 2290 tax payments. Truckers with heavy vehicles that don't belong in the taxable category must report Form 2290 reports for their vehicles as tax–suspended vehicle. These vehicles are not entitled to 2290 tax payments. Also, logging vehicles are taxed separately based on their taxable gross weight category. Therefore, truckers reporting Form 2290 returns for their vehicles must report their truck taxes in the right weight category.
E-file Form 2290 on Tax2290.com!
Tax2290.com is an IRS – approved modernized Form 2290 HVUT e-filing service platform where truckers and trucking taxpayers can e-file Form 2290 online smoothly at economical rates. We provide smooth and swift Form 2290 e-filing services. Truckers can e-file Form 2290 easily in a few simple steps and get the IRS digitally watermarked Schedule 1 copy directly to their email. You can complete the entire Form 2290 tax report preparation, submit your reports to the IRS and get the Schedule 1 copy to your email within a few minutes. You don't have to wait for days and weeks to report your taxes and get back the Schedule 1 copy. Instead, you can e-file Form 2290 online from the comfort of your home or office using your PCs, laptops, smartphones and tablet devices. There are Tax2290 mobile applications for Android and iPhone users to e-file Form 2290 effectively using smartphones.
Use the coupon code to save big!
As it is mid–month, Tax2290.com is offering a special coupon code to all our users to save big on their Form 2290 e-filing charges. Use the coupon code 'ONTIME2023' to get a flat 10% discount on your Form 2290 e-filing service charge from Tax2290.com. This mid–month exclusive offer is valid from 13 to 16 July 2023. So, we request that all truckers and trucking taxpayers use this offer to e-file Form 2290 HVUT reports weeks before the deadline. With this offer, you can e-file Form 2290 economically and smoothly continue your trucking operations on public highways. To learn more about this offer, don't hesitate to contact our customer care desk at 1-866-245-3918 (toll-free) or write to us at support@taxexcise.com; we will reply promptly.