We entered the new truck tax season, 2023 – 2024, from July 01, 2023. Truckers are due for their HVUT payments to stay in compliance with IRS rules and regulations for operating heavy highway vehicles on public highways. If you are a trucker or a trucking taxpayer, this message is for you. You must report your HVUT returns for the new tax season to the IRS using the IRS Form 2290. You can e-file Form 2290 through our Tax2290.com to have a smooth, accurate and comfortable Form 2290 filing this season. Remember that the IRS made e-filing mandatory for truckers and taxpayers reporting Form 2290 HVUT returns for 25 or more vehicles in their fleet. Also, they encourage every trucker to choose an e-filing method to report their truck taxes online because it is smooth, accurate and easy for the IRS to process the tax returns on time.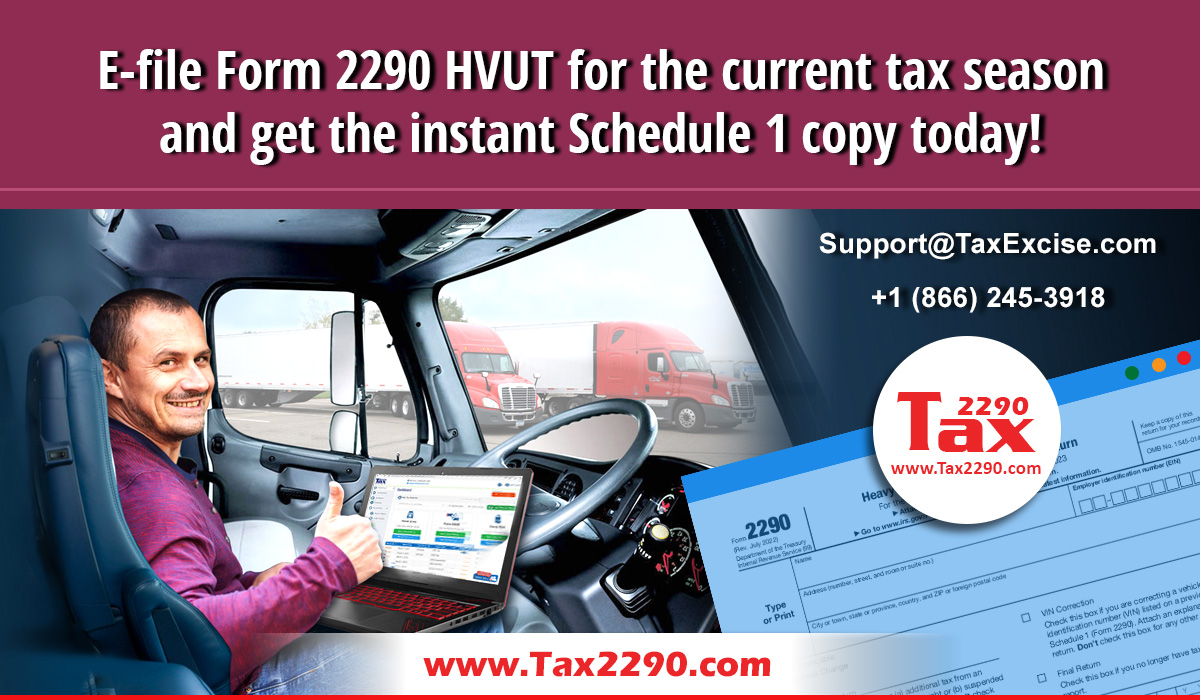 Instant Schedule 1 Copy once you e-file Form 2290 in our platform.
One of the main advantages of e-filing Form 2290 online is getting your Schedule 1 copy at the earliest. IRS will process your Form 2290 tax reports and send you the IRS digitally watermarked Schedule 1 copy to your email. Getting your Schedule 1 copy on time is essential because it proves that you successfully reported Form 2290 HVUT of your heavy highway vehicle for the season. You can use this Schedule 1 copy for your vehicle registration and license renewal purposes with the DMV. Also, a Schedule 1 copy is mandatory for new heavy vehicles for registration and insurance. Without a valid Schedule 1 copy, you cannot operate your heavy vehicles on public highways.
E-file Form 2290 to get the instant Schedule 1 copy now!
Tax2290.com is an IRS – approved modernized Form 2290 e-filing service provider. Truckers and trucking taxpayers are actively e-filing Form 2290 HVUT returns for the tax season to get the Schedule 1 copy promptly. You can follow the simple steps in our sleek UI to prepare your 2290 tax reports and transmit them to the IRS. Once they process your 2290 tax returns, you will instantly get the IRS digitally watermarked Schedule 1 copy to your registered email. You can download, print and use it for all necessary purposes. Also, if you entered an incorrect VIN or have to amend your already filed tax returns, you can e-file in our platform and get the revised IRS Schedule 1 copy immediately. You don't have to wait weeks to get the IRS-stamped Schedule 1 copy to your mail like when you paper file your returns. You can access your Schedule 1 copy through the dashboard of your Tax2290 profile any time you want. You can store/access all tax information, acknowledgements and Schedule 1 copies for free in your profile.
The last date to report your Form 2290 HVUT for this tax season and get the Schedule 1 copy is August 31, 2023. To learn more about Form 2290 e-filing, don't hesitate to contact our customer care desk at 1-866-245-3918 (toll-free) or write to us at support@taxexcise.com; we will reply promptly.