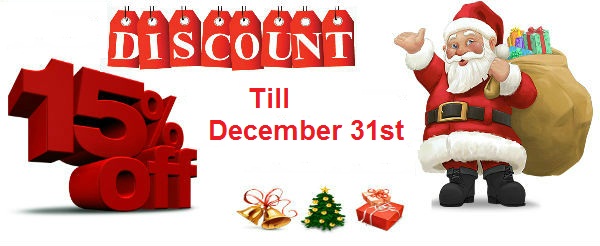 Resolve to make at least one person happy every day, and then in ten years you may have made three thousand, six hundred and fifty persons happy, or brightened a small town by your contribution to the fund of general enjoyment. As an E-file service provider we had the privilege to please more than a million wonderful human beings over the last 10 years. www.tax2290.com – a Product of think Trade Inc, the ONLY DECADE OLD IRS Authorized E-file Service Provider for Efiling Federal Excise Tax Form 2290, Wishes you all a Very Happy New Year in Advance.
Sharing Gifts in an important part of Holiday season, every single Excise tax payer who have used our service for the past 10 years have gifted us your love & support and made us see new heights of success every year. It wouldn't be fair if we do not return the favor. Unlike others we were not quite happy with the plan of gifting our loyal Tax payers only on the New Year Day; it will not make any sense if we let you redeem your gift on a federal holiday, when you all will be partying hard.
So after some serious discussion, we came up with an Exclusive Last week 2016 Discount. Yes! You read that right www.Tax2290.com & www.Taxexcise.com , offers a FLAT 15% OFF on its service fee when you E-file any of your Federal Excise Tax Form any time during the Last Week of 2016 that is from Monday, December 26th till Saturday December 31st. We cannot think of a better gift to all those Law Abiding tax payers. Use Promo Code "WELCOME17" on the promotions & Discounts page when prompted and Grab our New Year Gift.
NOTE: IRS E-file Servers have been shut down for yearend Maintenance, but you can still E-file your federal Excise Tax Forms using Our Application. All Tax returns submitted during this cutover time will be securely held on our servers and will be pushed to the IRS servers as soon as they resume Operations. Acknowledgements for the Tax returns E-filed now will be sent to you via Email by the first week of January, that is when the IRS servers are expected to be up and running.
Our Tax Experts are available on all working days to assist you with your E-file related questions & Queries. Reach them @ 1-866-245-3918 or write to them @ support@taxexcise.com .