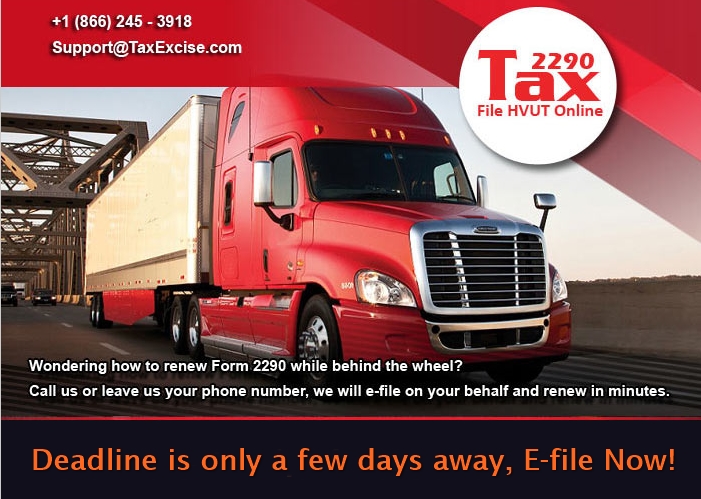 The Heavy Vehicle Use Tax Form 2290 is due for renewal every year before August 31. Taxes are part and parcel of any business and it is unavoidable. One such tax filed by Truck Owners and Trucking Companies is the Heavy Vehicle Use tax (HVUT) Form 2290. This Tax must be filed annually for any heavy vehicle with a gross weight of 55,000 pounds or above. Since the tax Period for HVUT starts from July and ends in June the Tax is paid in advance by the beginning of Tax Year, the due date to have Form 2290 renewed for Tax Period 2020 – 2021 is August 31.
Due to the unprecedented prevailing circumstances and social distancing norms in place, most filers prefer to avoid any last-minute rush and complete tax returns ahead of time. Electronic filing has always been the best way to report form 2290 as it is fast and less time-consuming. With most of the IRS offices still re-opening, electronically filing form 2290 is the only option in getting your tax return completed and staying compliant with the IRS.
For users who have questions on your tax forms do reach our fully operational help desk for added support. This filing season we are operational 7 days a week from 9am to 6pm Central time, and to have maximum outreach in terms of customer service feel free to use our three-way line of communication, you can reach us at 866 – 245 – 3918 or write to us at support@taxexcise.com, LIVE CHAT support is also available that allows you to connect with our agents and get your questions answered instantly.
Stay Safe, Stay compliant, and Keep on Trucking!