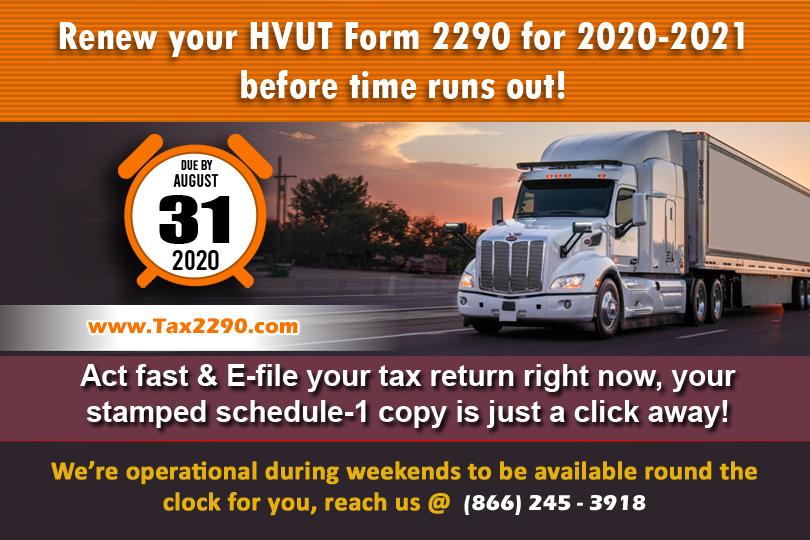 "Opportunities are like sunrises. If you wait too long, you miss them." William Arthur Ward
Trucking is not just a job it is a way of life. Every driver will always try to seize an opportunity to make the best out of it. Missing out on an opportunity to file and prepare taxes will not only result in penalties but also interests for late filing. With the deadline looming just a few weeks away we would like to keep you reminded to have the 2290 HVUT completed on time and stay compliant with the IRS.
Now you may wonder with the deadline at the end of the month, why file ahead?
There are possibilities where most filers make a few mistakes that would need to be corrected, most mistakes can also lead to your form being rejected. Filing ahead will give you an ample amount of time to get things sorted out and have this form completed. It is always better to be safe than sorry.
With online filings gaining momentum over the years there is always a last-minute rush in having forms processed. Towards the last few weeks of August, the IRS will be backlogged with pending returns and there is generally a delay in receiving much needed Stamped Schedule 1 copies.
Irrespective of the day you renew Form 2290, the tax amount remains the same.
Hence, do not wait for the opportunity, seize it. Be sure to have your HVUT Form 2290 completed for tax year July 2020 – June 2021 before the August 31st deadline.
Since this is done once a year and if you do run into any doubts, feel free to reach our tax experts @ 866-245-3918 now available all 7 days of the week from 9am – 6pm Central Time. You can also email your questions to support@taxexcise.com. For an immediate response during working hours, you can also use the LIVE CHAT Option available on the website.
Stay Safe, Stay Compliant, Happy Trucking!!