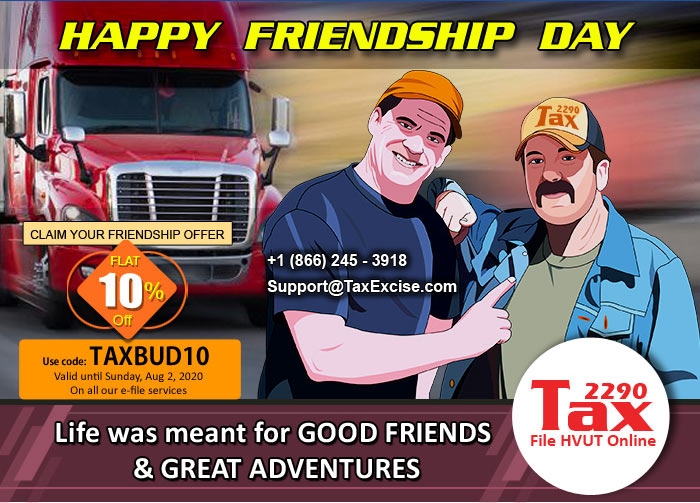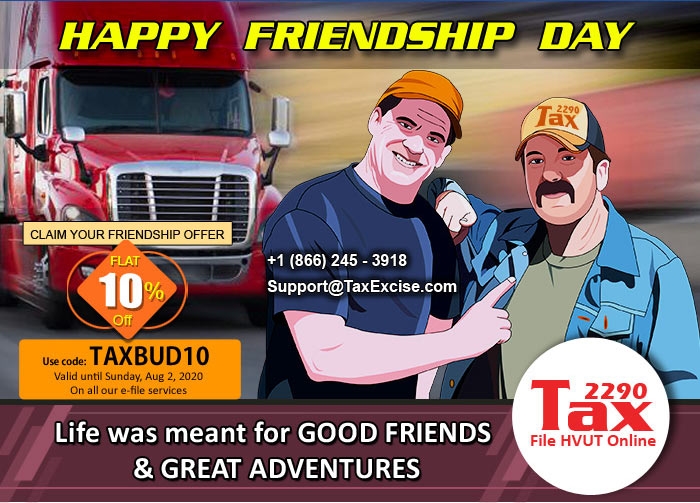 The circle of friendship is a place of warmth and care, where people of all walks of life come together for listening and sharing. A place of kindness and trust, a place for tears, joy and laughter too. We are glad to share this circle with a special trucker like you. We at Taxexcise.com would like to wish every passionate trucker a Happy Friendship Day, well as the saying goes "A friend in need is a friend Indeed".
Commemorate this pact of friendship with a discount on the E-file preparation fee. Since this being the last month to renew the HVUT Form 2290 for 2020-2021, we would like to kickstart August with a 10% discount on Form 2290 valid until Aug 2nd, use code TAXBUD10 to avail an instant discount of up to $40 on the service fee.
A gentle reminder for last-minute filers, do note that due to the recent ongoing pandemic there has been an unprecedented increase of filings taking place online, and in order to beat the last-minute rush, it would be advisable to have returns completed way before the August 31st deadline.
Being the only IRS Authorised E-File Service Provider that's over a Decade-Old, it is important that we stand up to your expectations and provide you with continuous support, guidance, and undisrupted service. What sets us apart as a company is our vast knowledge gained over the years and unmatched customer service.
For any tax-related questions feel free to reach our fully operational help desk. We're available on all Business days between 9:00 AM to 6:00 PM Central Time (now available on weekends too). Our three-way line of communication allows you to speak to us by phone @ 866-245-3918 or write to us at support@taxexcise.com, to have your questions answered instantly do also try out the LIVE CHAT option available on the Website.
Happy Trucking!