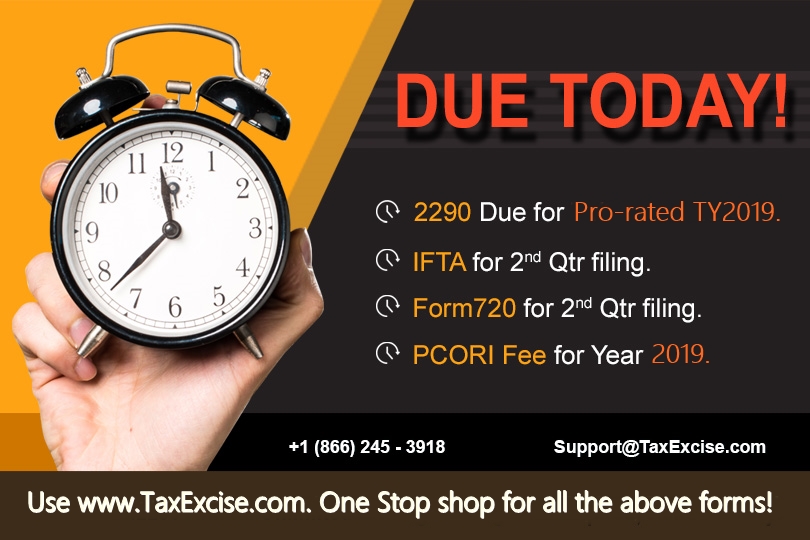 Unlike many other tax return deadlines, the deadline on the Heavy Vehicle Use Tax Form 2290 has not been extended. Every truck driver who travels in and around America will need to file new returns before the actual due date of August 31st. During recent months due to the sudden surge of filings taking place, the IRS has also issued certain guidelines to make this process less cumbersome.
The following are a few key points issued by the IRS for Form 2290.
The previous years' Stamped Schedule 1 Copy can be used for Vehicle Registration that is due in July, August, or September.
For tax filers who choose to make a payment using EFTPS (Electronic Federal Tax Payment System) should enroll and apply with eftps.gov in advance, usually setting up an account takes just 5 – 7 business days, and the payment can be initiated post activation.
Form 2290 filers who choose to mail in a paper return along with payment will need to send a paycheck or money order payable to the U.S. Treasury along with Form 2290 and Form 2290-V(payment voucher) to the below address.
Internal Revenue Service
P.O. Box 932500
Louisville, KY
40293-2500
For more information on the IRS Mailing Address, you can also visit https://www.irs.gov/filing/where-to-file-your-taxes-for-form-2290
Taking into note the large number of paper returns being received by mail there will be a delay in processing and filers can expect to receive their Stamped Schedule 1 in about 6 weeks.
Filing form 2290 online has always been the breadwinner for almost every trucker. Electronically filing this form online enables you to receive your Schedule 1 in a few minutes rather than waiting a few weeks on forms that were sent by mail. All through the prior year copy can still be used for vehicle registration do note that the due date to renew your 2290 for the current years still remains August 31st.
Today's Deadline:
Pro-rated Form 2290 for TY 2019: any vehicles first used or began operations in the month of June 2020 are due TODAY for reporting on Form 2290 for the tax year 2019 – 2020.
International Fuel Tax Agreement (IFTA): is due TODAY for the second quarter of 2020.
Being the only decade old provider for various tax forms, it is important that we provide you with continuous support, guidance with undisrupted service, we've taken all the necessary measures to be at your reach 7 days a week from 9am to 6pm central time. Our help desk has a 3-way line of communication and we can be reached by Phone @ 866-245-3918, Email: support@taxexcise.com & the Live Chat support which is available on the website.
Stay safe, Stay Compliant, and keep on trucking.