The Federal highway heavy vehicle use taxes are due now and has to be reported now to renew your Form 2290 and Schedule-1 for the tax year 2016-17, starting from 1st of July.
Reminder for e-filing your Heavy Vehicle Use Tax return
The Federal Heavy vehicle use tax returns are due now and up for renewal. If you're a trucker who owns your own truck, you have to file 2290 taxes periodically. The HVUT may not cost heavy as like the heavy motor vehicles if truckers and fleet-owners who need to pay tax form 2290 and file returns happen on time during this tax period for 2290 starting July 1st 2016 and ending on June 30th 2017.
ON TIME filing Offer – 10% OFF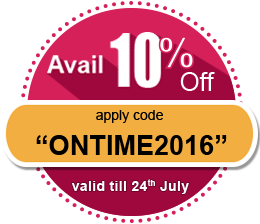 Tax2290.com runs a campaign for on time files as a token of appreciation and to encourage filing taxes on time with a promo code for 10% flat off on the e-file fee. Apply "ONTIME2016" to avail this offer today which is valid till 24th of July.
Tax season is almost here, and with it comes all the usual issues of paperwork and confusion. The earlier you start with the return and figuring out how much is your tax & how you are going to file your taxes, the better. Electronic filing is the best way of reporting this 2290s as it is fast and quick, IRS schedule -1 receipt in minutes. 
Here's what you need to know:
If you have vehicles with a gross weight of 55,000 pounds or more that travel 5,000 miles or more annually on public highways in the United States,  you must file IRS Form 2290 Heavy Vehicle Use Tax;
If you have 25 or more vehicles that are 55,000 pounds or more, you must file electronically;
The tax generally is required to be paid by the person who the vehicle is registered under State, Canadian, or Mexican law at the time of its first use in the United States;
The tax rate ranges between $100 and $550 per vehicle depending on its taxable gross weight. Cargo is not included, however semitrailers and trailers are;
You must have a U.S. Employer Identification Number to file Form 2290; you cannot use your Canadian Social Insurance Number or your U.S. Social Security Number.
For those acquiring and registering a new or used vehicle during the July also need to file this form 2290 taxes on time well within the tax period.
If your commercial vehicle has a gross weight of 55,000 or more you're required to report and pay this truck tax to the IRS and obtain your paid 2290 receipt called Schedule-1 proof. The fees are based on gross vehicle weight. The heavy highway vehicle use tax is a federal bill that is reported from July 1 through June 30. Tax must be paid in advance (the beginning of the IRS tax year). Tax is also prorated according to the month you first put your truck in service. The IRS is reminding truckers and other owners of heavy highway vehicles that this federal highway use tax return, is due this August 31.