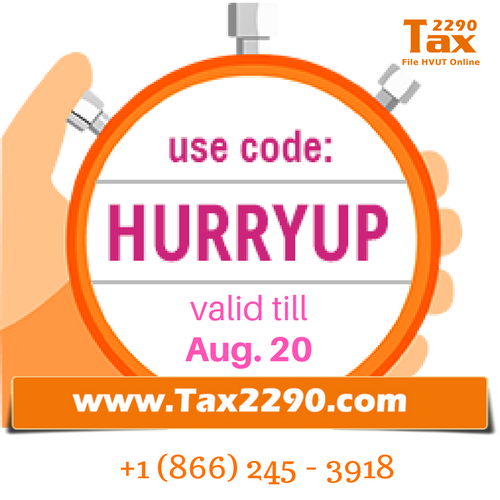 Truckers & Trucking Companies You only have HALF MONTH left to E-file your Heavy Highway Use Tax Form 2290 (HVUT). Form 2290 is due NOW! The Tax Year For HVUT Begins by July and Ends by June, No Matter which Month you filed your 2290 last Year or which month your registration is Due This year. If you have not renewed your Heavy Highway Use Tax Form 2290 for Tax Year 2017 – 2018 yet it means you are operating your Heavy Equipment with an Expired Schedule 1 Copy.
Stamped Schedule 1 copy is the Proof for filing your Heavy Vehicle Use Tax Form 2290. It is a must have document in your Heavy rig and mandatory piece of paper that is needed to register your Truck or renew your plates. Tax Form 2290 HVUT is slightly different from other Taxes that we file, this one particular Tax is always  paid in advance which means for Tax Year 2017 – 2018 one has to report and pay the Tax in 2017 itself.
Now one must be clear that you owe the IRS for HVUT before the End of this Month. The IRS will not penalize you if you file before August 31st but are they gonna reward you if you file on time NOOO! But as the FIRST EVER IRS AUTHORIZED and THE ONLY DECADE OLD E-FILE SERVICE PROVIDER for E-filing Heavy Highway Vehicle Use tax Form 2290, www.Tax2290.com offers a FLAT 10% OFF on the E-file Preparation fee for those Excise tax E-filers who E-file their HVUT before August 20th .
Use Promo Code "HURRYUP" and avail this limited period offer, also keep your friends, family & colleagues who are involved in Trucking about the near term tax deadline and the Ongoing discount offer from www.Tax2290.com , so that they all get benefited.
For further information contact us @ 1866-245-3918 or write to us @ support@taxexcise.com or ping us using the live chat option on the application.
If you do not find time during weekdays and wish to E-file your Federal Heavy Highway Vehicle use Tax Return (HVUT) Form 2290 on Weekends and if you need assistance you have the contact information above, Yes! Our Tax Experts have decided to work on all weekends to assist Weekend tax Filers with their Queries till the End of August.