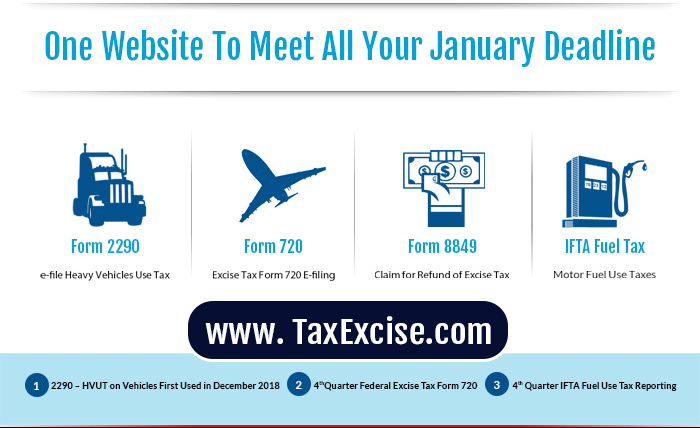 Not often do we get a three bills from the IRS together, but mind you truckers and excise tax payers, you are going to meet three tax bills at the month end. Do not get carried away with your New Year parties or the worst weather condition and forget to file your Tax returns by the deadline Jan 31st, 2019.
Taxes that are due by Jan 31, 2019:
Form 2290: January 31, 2019 is the Deadline to E-file your Federal Excise Tax Form 2290 for Vehicles first used in the Month of December 2018 since July 2018. You may simply log on to www.tax2290.com & E-file your HVUT Tax Form 2290 within minutes.
Form 720: Another Federal Excise Tax Form that is due by Jan 31 is your Quarterly Excise tax Form 720 for the Fourth Quarter of 2018. E-file it through www.taxexcise.com now to avoid penalties & Interests.
Form IFTA: International Fuel Tax Agreement (IFTA), for the Fourth Quarter of 2018 is also due on the same day Jan 31. Though there is no option to E-file this complicated Report for several States, you may still get them prepared online through our site www.taxexcise.com / www.taxifta.com to avoid complicated tax calculations and confusing tax Jargon's.
Use www.Taxexcise.com & www.Tax2290.com – Products of ThinkTrade Inc, to prepare or E-file the above mentioned tax forms before January 31st, 2019 to avoid Penalties. E-file is Simple, Safe and Secured and now possible from your Android & iOS Smart Phone as well.
You can always count on our handpicked, Industry's Best Tax Experts for help, they live to provide top-notch year-round support during the business hours. Reach them @ 1-866-245-3918 or write to them @ support@taxexcise.com or ping them using the LIVE CHAT option on the website.