Hello, Truckers! Check out our Tax2290.com billboard on the Highway Interstate 24 in Downtown, Tennessee. As we all know, this year's tax season is just around the corner; Tax2290.com is offering form 2290 pre-filing services for all truckers and truck taxpayers to stay ahead of your form 2290 efiling in this upcoming tax season. IRS encourages all truckers to e-file form 2290 online through an IRS-approved form 2290 e-filing service provider because e-filing is simple, accurate, and swift. But, even the e-filing method will be crowded with a lot of tax reports. Therefore, the IRS takes some time to process all those requests and issues the schedule 1 copy.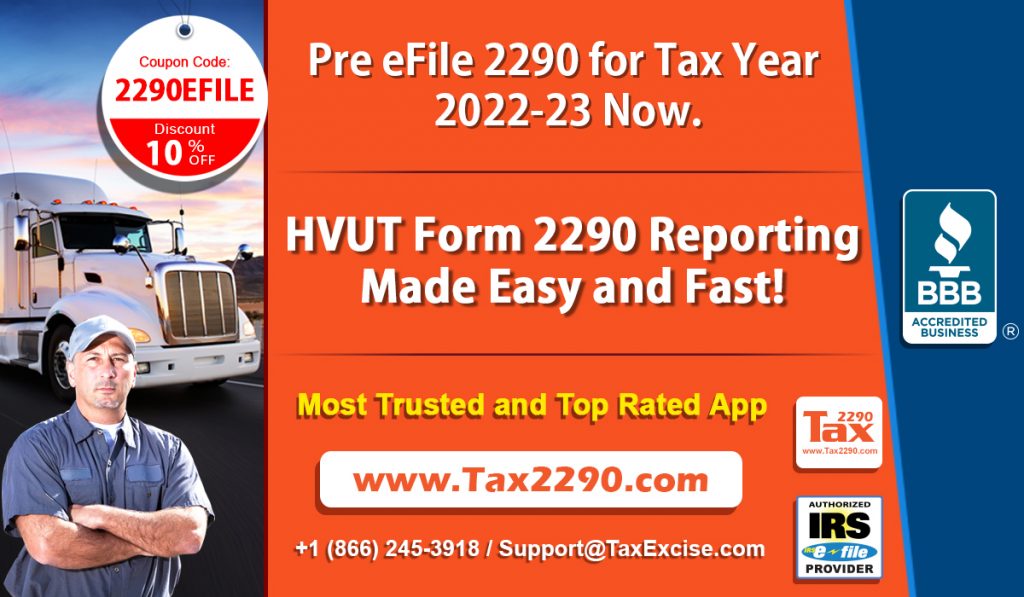 Form 2290 Pre-filing is actively happening on Tax2290.com.
Our sole aim is to solve all the form 2290 tax filing problems with a better online solution with this vast technology at our disposal. So, Tax2290.com gives you the form 2290 pre-filing services, where you can prepare and report your form 2290 HVUT returns days ahead of the tax season. We will securely hold your 2290 truck tax reports with us and transmit them to the IRS on your behalf once they start accepting form 2290 at the beginning of the tax season, which is around the first week of July 2022. You can then pay your 2290 tax dues and get the schedule 1 copy from the IRS directly to your registered email.
Use our exclusive coupon code to get attractive discounts!
You don't have to pay your 2290 tax amount upfront, as the IRS only processes your request during the beginning of tax season. But you have to pay the form 2290 preparation service charges for Tax2290.com at the time of your form 2290 pre-file. As this entire concept of pre-file is to help the truckers save time and money, you can save even more money in form 2290 pre-filing at Tax2290.com. You can use the code '2290EFILE' while checking out to get a 10% discount on your total form 2290 tax returns preparation charges.
You can also check out the official website at Tax2290.com and social media pages to know more about form 2290 pre-filing with us. In addition, you could contact our customer support desk at +1 (866) 245-3918 to know about pre-file form 2290 and more pre-filing offers.