The tax season is a month away, and all the trucking taxpayers are already filing their taxes online ahead of the tax season. Yes, you read it right! You can prepare your form 2290 truck taxes and pre-file them before the tax season. This is possible; we at Tax2290.com made form 2290 pre-filing possible and accessible to all truckers and truck taxpayers to help them prepare and report their form 2290 truck taxes way ahead of time. You can pre-file now and pay your truck taxes at the beginning of the tax season when the IRS officially accepts form 2290 for the tax period. You can easily pay using all the IRS-approved tax payments and complete your form 2290 process. IRS will send the official schedule 1 copy directly to your registered email once they process your truck tax returns.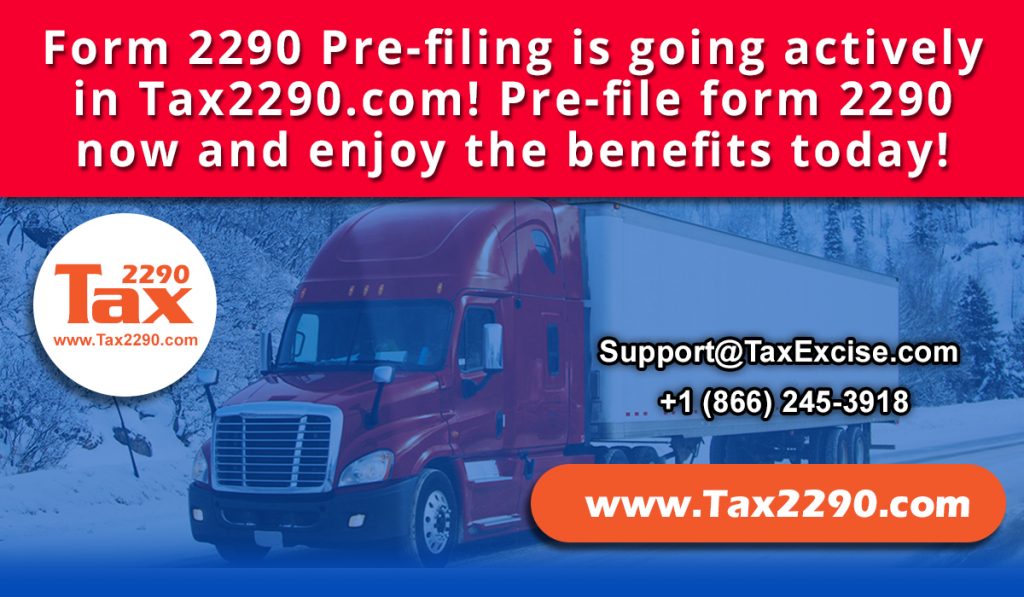 Form 2290 Pre-filing is open for the tax season 2022-2023!
Truckers and trucking taxpayers are actively pre-filing their form 2290 truck tax returns at Tax2290.com. Pre-filing form 2290 HVUT lets them relax when the tax period starts and avoid rushing through the crowd. As the IRS works based on a first-come, first-served basis, IRS takes all the previously filed (pre-filed) form 2290 for processing and sends the official IRS schedule 1 copy immediately after processing those truck tax returns. Therefore, form 2290 pre-filing allows you to report your form 2290 tax returns days ahead of the tax season. You have time till August 31st to finish the tax payment and get the schedule 1 copy from the IRS to continue your trucking operations smoothly. The whole form 2290 pre-filing service has been implemented to serve the trucking community to the fullest. Tax2290.com will hold the pre-filled form 2290 on your behalf, and we will transmit your tax reports for processing as soon as the IRS opens for the TY 2022-2023.
Form 2290 Pre-filing is simple and effective at Tax2290.com!
Tax2290.com is an IRS-approved modernized e-filing service provider specializing in form 2290 HVUT online e-filing solutions. Our user-friendly platform enables all our users to easily e-file form 2290 directly to the IRS in simple steps and get the schedule 1 copy directly to your registered email. You can easily pre-file form 2290 at Tax2290.com by selecting the appropriate tax year (TY 2022-2023 for this year's form 2290 pre-filing). Tax2290.com will automatically transmit your pre-filed 2290 truck tax reports to the IRS once they open for TY 2022-2023 tax filing. You can avail of attractive offers, discounts, and coupon codes to save a lot of money and get a great deal on your form 2290 e-filing at Tax2290.com.