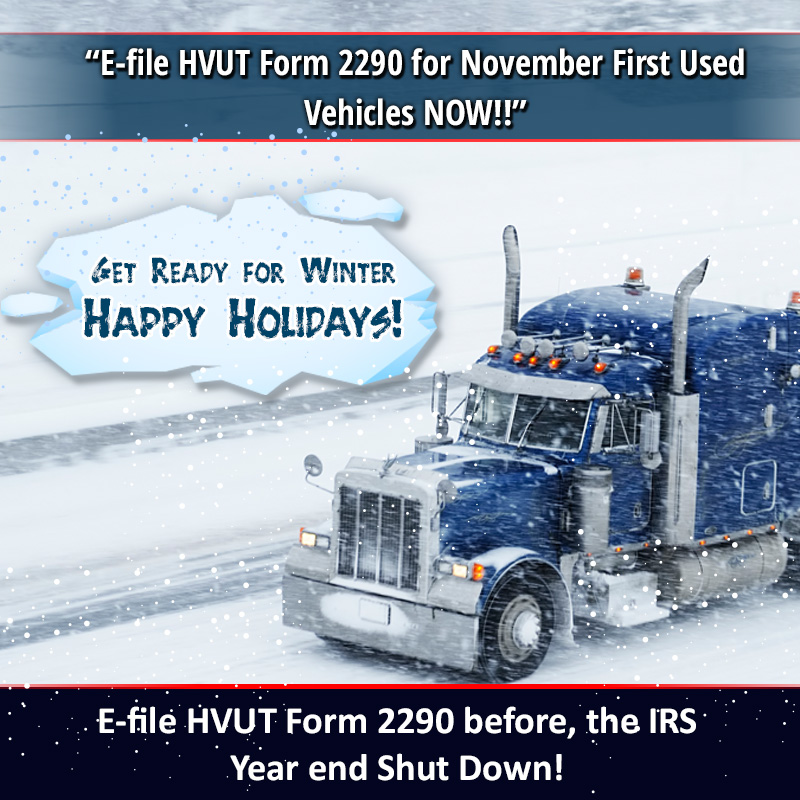 Christmas is the season for kindling the fire of hospitality – Washington Irving
This is our wish for you: peace of mind, prosperity through the year, happiness that multiplies health for you and yours, fun around every corner, energy to chase your dreams, joy to fill your holidays! We at www.Taxexcise.com / www.Tax2290.com – Products of ThinkTrade Inc., Wishes everyone a happy and great Holiday Season!
Heavy Vehicle Use Tax (HVUT) Form 2290 for Vehicles First used in the Month of November 2018 are due by December 31st 2018. However we have a Very Important information below, if you are thinking about E-filing Form 2290 at the last moment.
Important Notice: Like every Year the IRS E-file Servers will be shut down for yearend Maintenance on December 26th, 2018 and will stay down till the first week of January 2019. Any tax return submitted during this period will be processed by the IRS only when they resume operations. It is highly recommended that you submit your Federal Excise Tax Returns on or before December 24th, 2018 because the IRS will not be working on Tuesday on the happy occasion of Christmas.
For any questions or queries you may have feel free to reach our tax Experts @ 1-866-245-3918 or write to them @ support@taxexcise.com or ping them using the LIVE CHAT option available on the website. HAPPY HOLIDAYS!!!!