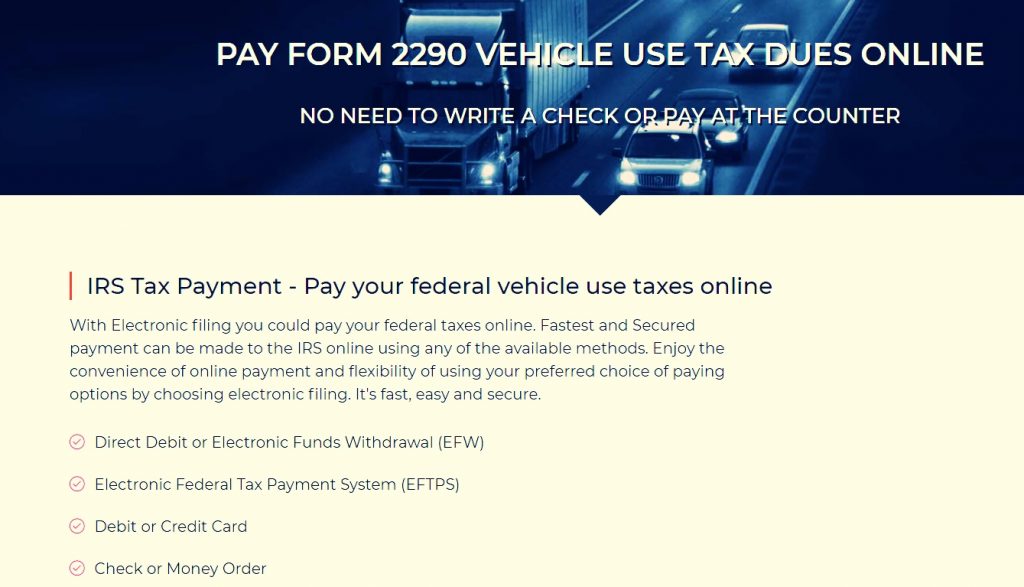 Every year, on or before August 31, the Heavy Vehicle Use Tax Form 2290 must be renewed. Taxes are a necessary component of doing business and cannot be avoided. The Heavy Vehicle Use Tax (HVUT) Form 2290 is one such tax that truck owners and trucking companies must file. Any big vehicle with a gross weight of 55,000 pounds or more must file this tax once a year. Because the HVUT tax period runs from July to June and the tax is paid in advance at the start of the tax year, the due date to renew Form 2290 for the Tax Period 2021–2022 is August 31st.
The IRS has enabled and has been accepting tax payments using Credit/ Debit cards for over 2 years now. Apart from Credit/ Debit card payment, the IRS has 4 different payment options to pay the taxes,
EFW (Direct debit from Bank account)
EFTPS (Electronic Federal Tax Payment System)
Credit/ Debit
Pay by Check/ Money Order
Only, the EFW (Electronic Funds Withdrawal) is automatic withdrawal by the IRS, whereas the others are manually required to pay the taxes by either logging into a different website or write them a Check. The IRS has limited the number of Credit/ Debit card payments made online, you can pay the IRS tax amount only Twice a year using your Credit/Debit card.
When you have chosen to pay using a Credit/ Debit card, we strongly recommend paying the tax amount only after receiving the Schedule 1 copy which would be received in minutes after the return is transmitted to the IRS for processing. The link https://www.irs.gov/payments/pay-your-taxes-by-debit-or-credit-card will be sent along with the email when receiving the Stamped Schedule 1 copy. You can click on the link to find 3 different Payment processors, each of the payment processors will have a processing fee based on the card type apart from the original tax amount.
However, we usually recommend making the tax payment to the IRS once you receive the Stamped Schedule 1 copy from the IRS which would be received within few minutes from transmitting the return.
For any clarification over submitting your Form 2290, our support agents can be reached @ 866-245-3918 or write an email to support@taxexcise.com and for instant response try LIVE CHAT option, we are operational from 8AM – 6PM CST all through the week until August 31st.