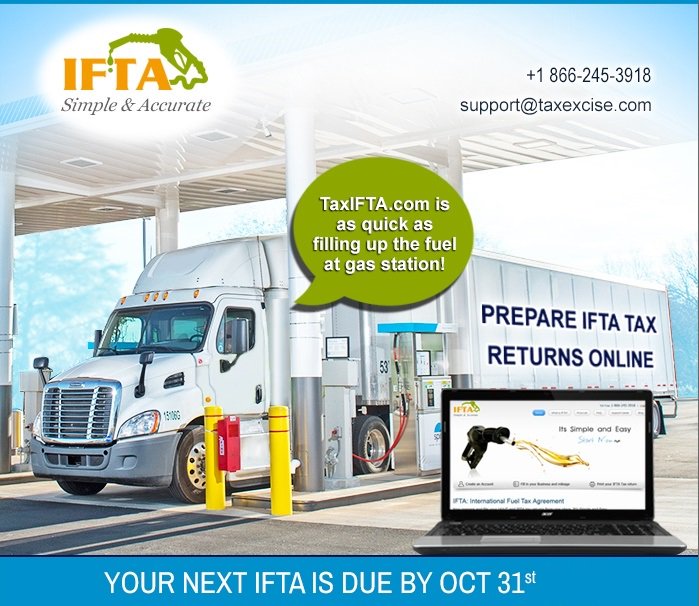 Just like last quarter, you have to report your IFTA returns this quarter too. It is common for all IFTA Licensees to submit fuel tax reports every quarter of the year. The third reporting quarter for IFTA returns (July to September) is due on October 31st 2017, if you prepare and get it post marked before the End of the Month then your return will be considered "Filed on time".
The basic information that is required for preparing an IFTA return:
The miles you traveled in each jurisdiction
Total miles you have traveled for the reporting period.
Gallons of fuel purchased in each jurisdiction
Very importantly your IFTA License Number
The quarterly reports must be submitted even if:
No taxable miles were traveled during the reporting quarter.
All those miles you have traveled were within your base jurisdiction.
So remember, by October 31st 2017, you must prepare and file your third quarter fuel tax.  Preparing IFTA returns is a tedious task as some serious calculations are involved. Taxifta.com comes to your rescue by taking away the load of calculations from your way. Log on to www.taxifta.com and prepare your IFTA returns within minutes.
Note: HVUT Form 2290 for Heavy Vehicles First used in the Month of September is also Due by October 31st 2017.
Our Tax Experts are always available for your assistance @ 1-866-245-3918, you may also write to them @ support@taxexcise.com or you may ping them using the LIVE CHAT Option on the Website.