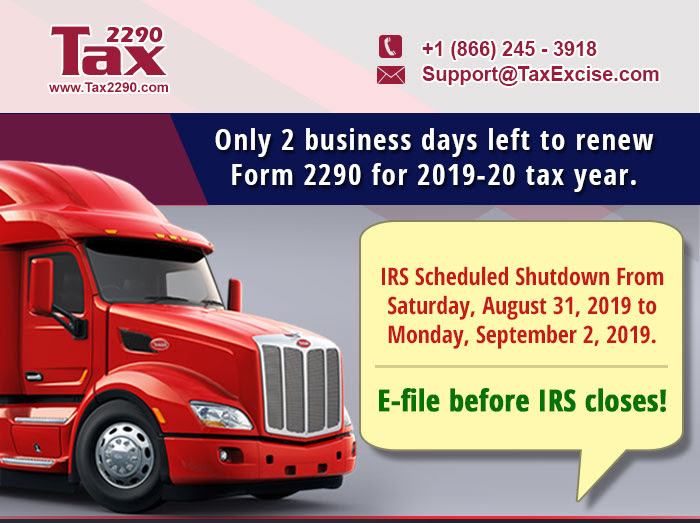 The Time has come! Do not wait; the time will never be 'just right.' Start where you stand, and work with whatever tools you may have at your disposal, and better tools that have been provided just to make you act now. Any more delay could be dangerous.
Why is it so important to act now? It is important to act now because you only have 1 more business day to file your tax return without being penalized for late filing and payment, we all know Uncle Sam does not like late filers. And with the IRS Labor day power outage scheduled for August 31 to September 3, 2019, you have limited time to act and you wouldn't want to be caught in the middle of the huge traffic that might delay your 2290 getting processed at the last minute.
This time you have no excuses for not acting on filing your form 2290 on time, with all the resources provided and the high-end technologies offered by www.tax2290.com / www.taxexcise.com you are assured of an on-time and accurate filing for your form 2290. Now is the time to sit down and log on to our website and experience the comfort of filing your form 2290 at home, in less down 15 Mins.
Also it is important to note that tax Form 2290 filing deadline is not the same as your vehicle registration renewal date, regardless of when your vehicle registration is due for renewal, you must renew your trucks 2290 on or before the Deadline which in this case will be September 3, 2019.
Join the Hundreds of thousands of businesses that already E-filed and received their stamped Schedule 1 TODAY!!!! It's Now OR 4.5% Penalty monthly up to 5 months of what you owe for filing late.
Let us make your form 2290 filing hassle-free, reach our Tax expert at (866) 245 – 3918 or leave us your phone number in the email: support@taxexcise.com and we will walk with you every step of the filing process.
Share this and help your friends also to stay compliant! Just 1 more Business Day left for the deadline!