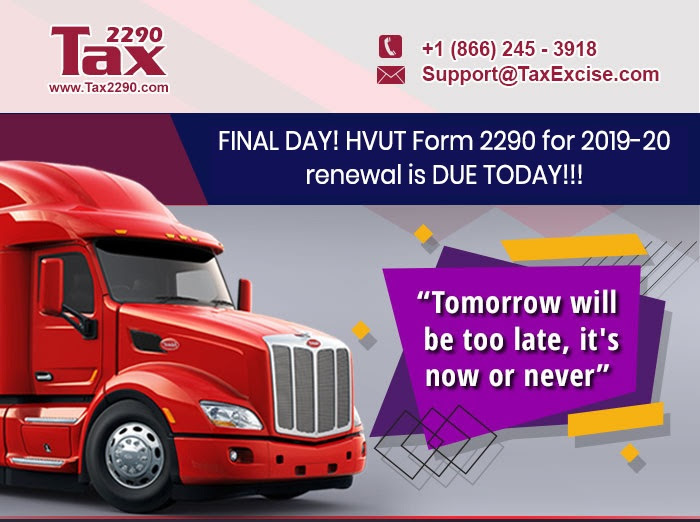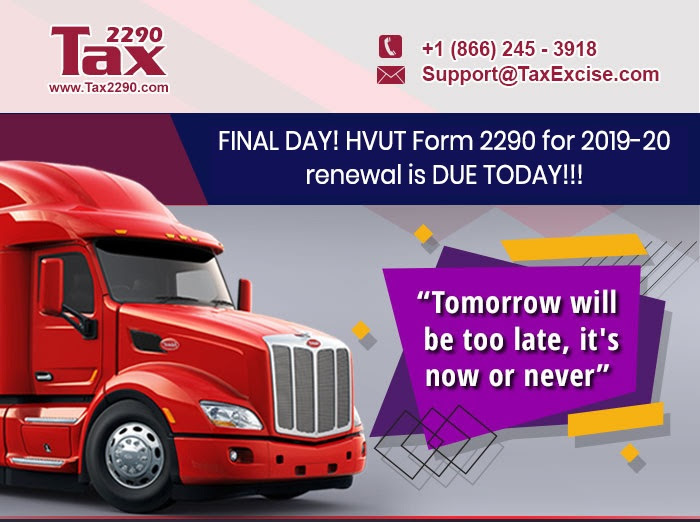 The time has come and the Grace period is over, for the last few months you have been constantly reminded of the deadline to file your form 2290 for tax year 2019-20, however to the best known reason to some, they are still yet to file their form 2290 for tax year 2019-20. The IRS also extended the deadline to file by 3 days due to the fact that the August 31st falls on Saturday and Monday Sept 2nd is a federal holiday that gives you another one more day (Today) to file your 2290 for 2019-20. Any filing done after the deadline (TODAY) might incur a penalty for late filing and also incur a monthly interest on the total tax dues.
Why wait longer? Do your filing now and have the stamped Schedule 1 received in few minutes.
www.tax2290.com is here to help you stay compliant to the federal Government rules by providing the opportunity to file your form 2290 at the comfort of your home or office. All you have to do is to log in to your account on the website and file your 2290 with us, also note that It is mandatory for any business that has 25 or more vehicles to do the electronic filing, doing so will enable you to get your return process even at the last minute.
Things to know about IRS Form 2290:
The Deadline to file IRS form 2290 for the tax period July 2019 through June 30th 2020 Is 3rd September 2019
E-filing is mandatory for reporting 25 or more Vehicles
This is an annual filing.
Regardless of when your tag and vehicle registrations expires, Your Form 2290 for all your trucks expires by June 30th of every year.
You can also claim a refund on your form 2290.
www.tax2290.com brings all of this to you with our state of the Art website and you are guaranteed of on-time delivery of the stamped Schedule 1 copy.
Join the hundreds of thousands of businesses that already E-filed and received their stamped Schedule 1 TODAY!!!! It's TODAY OR 4.5% Penalty monthly up to 5 months of what you owe for filing late.
Let us make your form 2290 filing hassle-free, reach our Tax expert at (866) 245 – 3918 or leave us your phone number in the email: support@taxexcise.com and we will walk with you every step of the filing process. Share this and help your friends also to stay compliant! TODAY IS THE DEADLINE, ONLY A FEW MORE HOURS LEFT!