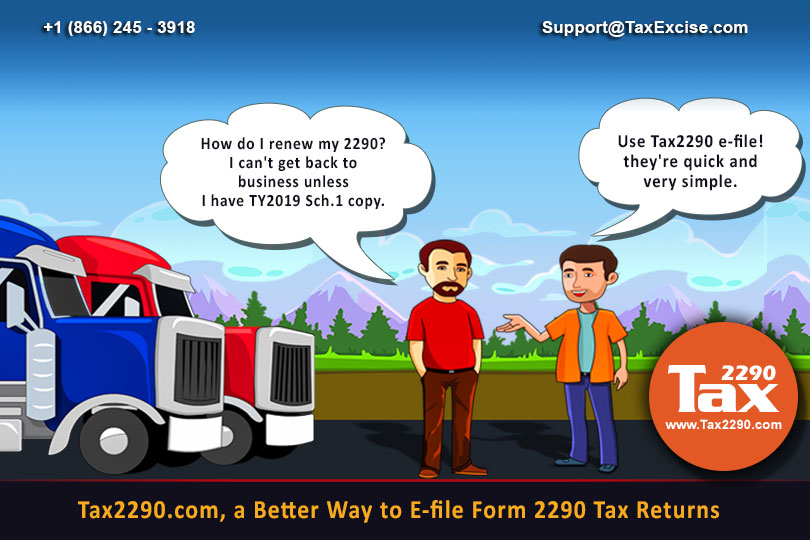 Procrastination!!! We all know about the word procrastination and the negative effect of it in our day to day life in some or the other way, But we say we are not a procrastinator just that we are too occupied with our Family and work that we forget or put forth some of the necessary things that might affect our activities if not done on time, But Do you know? Procrastination can put us in a big trouble and have us wishing we had acted earlier.
Such is the case if we procrastinate our form 2290 filing, We are at the risk of paying huge penalty, interest for late filing and payment and ultimately we are at risk of having our business suspended and going out of business all because we decided to procrastinate our form 2290 filing.
We would like you to take a moment to pick up your current 2290 stamped sch.1 copies and check the date, if your 2290 says 2018-19 then you have an expired copy with you. And you need to renew it right away because Sep 3, 2019 is the deadline for the 2019-20 renewal.
Well you do not have to worry about spending time with your family or delaying your work, www.tax2290.com is just a click away from helping you taking a step against procrastination and its negative effect, by using our fast and easy website you are assured of having your stamped schedule 1 copy delivered to your email in minutes.
Also if you are thinking that you still got time, you are right. However, in your best interest you should renew your 2290 within this week because the IRS e-file traffic will be at its peak and also will be the slowest to process your filings due to huge numbers of filing that will be happening during the final week.
You wouldn't want to take any chances, so log on www.Tax2290.com anytime within this week and e-file your 2290 for 2019-20 to get the stamped sch.1 copy renewed within minutes.
Help your friends also to stay compliant, forward this email to them! Deadline is only a fortnight away!
Talk to our experienced Support Desk at (866) 245 – 3918 or write to us at support@taxexcise.com, we're just a phone call away.